Two more recent films; both of which, I was quite disappointed to have missed out on viewing at the cinema.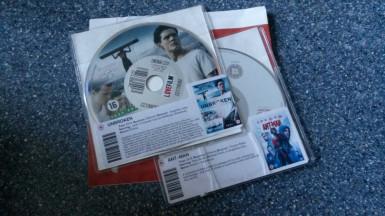 Unbroken – Based on a true story and largely heralded as the directorial debut for Angelina Jolie. British actor Jack O'Connell portrays Louis Zamperini; a record-breaking Olympic athlete who suddenly finds himself answering the call of duty, in the midst of World War II. This feature ultimately documents his trials, struggles and survivals, living within a Japanese prisoner of war camp.
So, I had an idea of what to expect from this one going in to it and was ultimately looking forward to a 'reissuing', of you will, of To End All Wars… But it's not quite like that.
I felt as though the trio's survival in the ocean, lasting many weeks, was well done without over-doing it [I think back to that ridiculous film where two people spent ages treading water before being eaten by sharks…]. Within the POW camp, I felt a strong sense of the cruelty within the man (Mutsuhiro Watanabe) who ran the camp. If you do a bit of further reading on Watanabe, you'll learn he was even more of an evil b***ard in real life. It was gritty, at times, without being gruesome. For the most part, it was largely interesting to follow.
On the other side of that coin, you have at least two British actors (O'Connell and Domnhall Gleeson) portraying American characters; accents and all… I'm never fan of that, whichever nations are involved. Worse still, they appeared to plaster O'Connell's skin with a 'Mediterranean glow', perhaps to enhance Zamperini's Italian heritage.
Jai Courtney is also in this film… Thankfully, his character is killed off early on!
Ant-Man – Haven't we already seen enough of superhero movies?!
It's bad enough that they've revamped Spider-Man, less than a decade after the close to his previous trilogy. Then, of course, there's the question of the new Batman…
I was one of the many who had not heard of Ant-Man. I'll bet there are many who don't know of Paul Rudd, either! But I couldn't ignore the good reviews that this had been getting and, having enjoyed Guardians of the Galaxy, I felt optimism towards this.
My hopes and expectations were exceeded. I truly did enjoy this one on both occasions. It's a superhero movie that almost springs from a new dimension. I did feel it tailed off towards a tired and predictable climax at the end (almost something akin to a Michael Bay Transformers film) but it remained brilliant otherwise. Of course, being set in the Marvel universe, Stan Lee does make a cameo appearance, along with a couple of others.
If you like harmless action and haven't heard of Ant-Man, I highly recommend this to you.
More new-ish releases next time!
Thanks for reading.