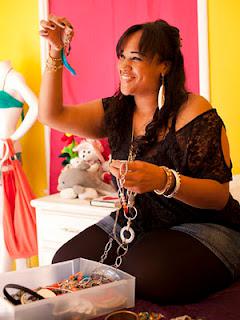 The night that Chelsea Settles premiered on MTV I did not watch it, I was working on my website.  
Chelsea Settles is the real-life story of Chelsea, a 23-year-old who leaves her small town in Pennsylvania to make a career for herself in the world of fashion in LA. But Chelsea isn't a typical recent college grad – at 324 pounds, she's morbidly obese, and facing a slew of self-esteem challenges which living in the land of the original skinny bikini blonds is bound to be tough. 
However I got a call from one of my friends after it was over and we were talking about it. He had also watched the premiere of I used to be fat and he basically said that although both shows were inspiring, he felt as though it's just something else to make people feel inferior. He said that shows like I used to be fat and Chelsea Settles just show males and females struggling to fit the standard that most people think is acceptable instead of loving themselves for who they are. 
To be honest I've never viewed  I Used to be Fat as something like that. I actually think it's inspiring to a point because it shows people who are trying to make a change for the better. They are trying to be healthier by changing their eating habits and living a healthier lifestyle. There are many of us no matter what our weight could benefit from eating a little healthier. Not just to loose weight but to be healthy, because at the end of the day health is all that matters and not just because you're thin means you are healthy and vice versa.  
I must admit that since we had that conversation I've only watched a piece of one of the Chelsea Settles episodes. The episode I saw was when she went to interview for a job at Lisa Kline, an upscale L.A. boutique. From the moment she walked into the boutique it was clear that she was 'out of place' and it was painful to watch her go through the interview because it was clear she was being judged. The worst part was when Lisa asked her if she has a wardrobe to work at the store, very L.A and hip because they make the girls wear stuff from the store. That alone to me was obvious that she was not only being judged about her weight but it's almost as though she was rubbing it in a little. I mean Chelsea is 324 pounds, I highly doubt that Lisa Kline carries clothing to fit her size so to me by her saying it was like Lisa telling her that she doesn't belong there.
The last time I checked in order for you to work in a fashion related business you need to have and eye for fashion, style and color. Your weight doesn't and shouldn't make you less fashionable. Unfortunately the way society is that's what's happening. I hate to blame the media for issues like this but at the end of the day it is the media to blame. We live in a media /celebrity obsessed world with Television, magazines, and all those stuff that are marketed towards us. We use magazine and television to escape our reality and live for a while in these celebrities shoes. I admit that I'm a reality show addict and I suffer from Kardashian syndrome. I can't get enough of the Kardashians, I love their hair, their makeup, their whole look. When we see a celeb that we adore dressing a certain way we try to emulate it. There are boundless celebrity inspired makeup and hair tutorials on YouTube.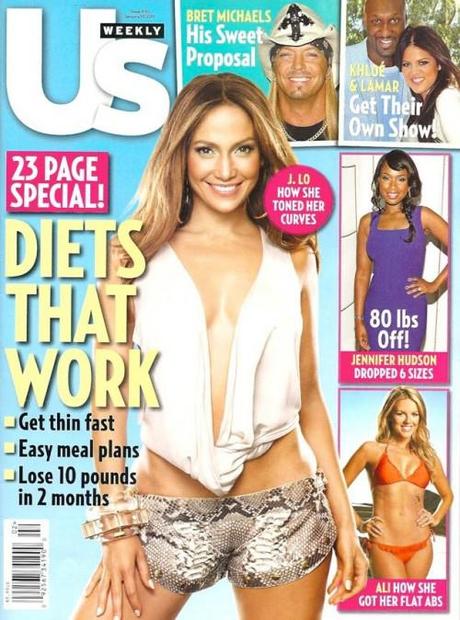 When we buy these gossip mags the images splashed across the cover and inside pages are all about body image and headlines like "How They Get Thin Fast!", "Lose 12 LBS in 3 Weeks", "Take an Inch off Your Hips",  "How I Got Thin", "Wow size 16 to size 6!". 
No matter how confident you are with your body looking through these mags are sure to make you second guess yourself at times because there are no magazines that showcase "real size" women. Most of the images are Photoshopped  anyway and we look at these cover girls with the perfect "Photoshopped" bodies and we start to scrutinize ourselves and wonder why we can't look like that. Then we try every workout possible, take as many diet pills on the market  and try all the weight loss tips in the magazines but to no avail. Why? Because the images were Photoshopped to begin with, so no matter how much we try, it's very unlikely that we would be able to look like them. 
I shared my view and a friend's view on this topic but I will love to hear yours. Comment below to share your view as well.