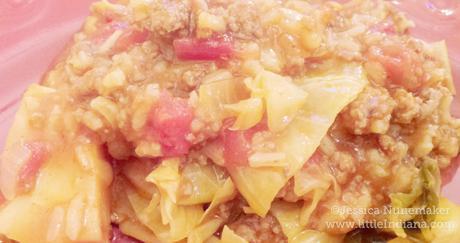 UnStuffed Cabbage Casserole Recipe
With a Polish heritage (I know, I know, go ahead and insert the appropriate jokes now),
stuffed cabbage
was one recipe my Italian grandma often fixed for my Polish grandpa.
I still prepare Stuffed Cabbage today for our family. We absolutely love it! I, however, do not always have the time to boil the cabbage leaves and stuff them. It is quite a process! So, I tweaked a recipe from Food.com to match what we already love.
This version of Un-Stuffed Cabbage Rolls saves so much time! By using ingredients in the traditional stuffed cabbage recipe, it captures the same flavors but without the long process of boiling cabbage and stuffing the leaves!
Print Stuffed Cabbage Casserole Recipe
Rating: 51
Prep Time: 15 minutes
Cook Time: 1 hour, 30 minutes
Total Time: 1 hour, 45 minutes
Yield: 1 9 x 13 Pan of Unstuffed Cabbage Casserole
Original recipe from Food.com--I tweaked it a bit to match the Golabki we know and love.
Ingredients
4 Cups Cabbage, Shredded
1 lb Ground Beef
1 Onion, Chopped
2 Cans Tomato Soup
1 Can Diced or Crushed Tomatoes (Undrained)
1/3 Cup Uncooked Rice (probably could use more)
Salt and Pepper
Instructions
350* oven.
Brown Ground Beef.
Add Onion and Saute for a few minutes.
Add in entire can of Diced (or Crushed) Tomatoes with the juice and 1/2 can of tomato soup.
Add in Rice and cook for a few more minutes.
Place some Tomato Soup in bottom of 9 x 13 dish.
Place half the Cabbage on top.
Layer in a bit of Tomato Soup, then the Meat mixture, and then the rest of the Cabbage.
Pour the remaining amount of Tomato Soup on the top. Fill Soup cans 1/2 full with hot water. Pour into sides of Casserole.
Bake, covered, 350* for one hour, remove cover, and bake for another 1/2 hour.
Serve with Ketchup. (why, I don't know, but it's what the Polish side of the family always did)
Schema/Recipe SEO Data Markup by ZipList Recipe Plugin2.2
http://littleindiana.com/2014/03/un-stuffed-cabbage-casserole-recipe/
Photos are the Property of little Indiana. Do Not Use Without Permission.
Small Towns: Destinations, not Drive-Thrus! I'm Jessica Nunemaker and THIS is little Indiana!
Find pictures in Indiana on my Flickr photostream or on the new little Indiana Tumblr blog.
Just don't forget to tell 'em that  little Indiana sent you!
Don't miss a moment. Subscribe to little Indiana and receive instant updates to stay on top of everything "little."
little Indiana: Where to Stay, Play, and Eat in Small Towns in Indiana. Discovering Indiana's best small towns! Now get little Indiana on your Kindle.
Targeted. Relevant. Affordable! little Indiana advertising.