Skeptics of anthropogenic (man-made) global warming have been saying for years now, that if the Earth indeed is warming — a fact that is also disputed (see "Global Cooling for Last 10 Years" and "Climategate scientist: no global warming since 1995") — the cause is not human but rather solar activities.
The United Nations'  Intergovernmental Panel on Climate Change (IPCC) is the world's most powerful proponent of both global warming (now called "climate change") and man-made global warming. The IPCC's report on global warming even garnered a Nobel Peace Prize in 2007, which the UN body shared with climate hypocrite-fraudster Al Gore.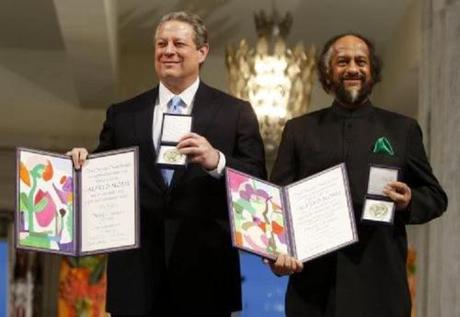 Al Gore and Chair of UN's IPCC Rajendra Pachauri (

a porn writer

) with their Nobel Peace Prize
But the IPCC report was found to be riddled with mistakes: The Himalayan glaciers are not melting. The Amazon rain forest are not disappearing. And it's 20%, not 55%, of the Netherlands that is below sea level.
Now another report by the same IPCC finally admits what some scientists have been saying for years — our Sun's activities may play a significant role in global warming!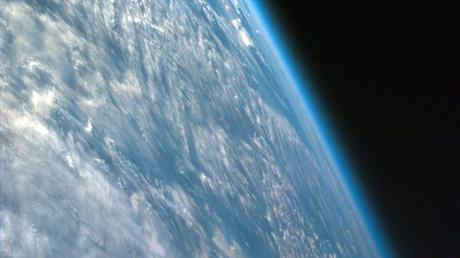 Maxim Lott reports for FoxNews, February 01, 2013, that a leaked draft of an upcoming report by the United Nations' IPCC says that heat from the sun may play a larger role than previously thought: "[Results] do suggest the possibility of a much larger impact of solar variations on the stratosphere than previously thought, and some studies have suggested that this may lead to significant regional impacts on climate."
The report was leaked by StopGreenSuicide blogger Alec Rawls, who told FoxNews.com that the U.N.'s statements on solar activity were his main motivation for leaking the document.
Rawls first leaked the report last December. He wrote on his blog: "The public needs to know now how the main premises and conclusions of the IPCC story line have been undercut by the IPCC itself."
He also blames the U.N. for burying its point about the effect of the sun in Chapter 11 of the report: "Even after the IPCC acknowledges extensive evidence for … solar forcing beyond what they included in their models, they still make no attempt to account for this omission in their predictions. … It's insane."
Despite the IPCC's admission, some climatologists still say that the report is important, but not game-changing.
Pat Michaels, the former president of the American Association of State Climatologists, and current director of the Center for the Study of Science at the Cato Institute, said: "The solar component is real but not of sufficient magnitude to have driven most of the warming of the late 20th century." Michaels also points out that the U.N. report says the effect of solar activity will be "much smaller than the warming expected from increases in [man-made] greenhouse gases."
But even Michaels admits that while the Earth had warmed over the last two decades, it did so more slowly than the U.N. had predicted: "Climate science has the problem of trying to explain why we are now in our 17th year without a significant warming trend. As a result, you are seeing many forecasts of warming for this century being ratcheted down."
Aaron Huertas of the Union of Concerned Scientists says that the focus on solar activity distracts from the big picture — the fact that the Earth is warming: "I see climate contrarians try this trick almost every time a big new solar study comes out. They somehow tend to neglect mentioning that solar variation is smaller than the heat-trapping power of carbon dioxide. The basic evidence is that solar activity has varied a bit while global temperature keeps going up."
Blogger Rawls argues what should really worry us is not global warming, but global cooling, due to a fall in solar activity: "Unlike warming, cooling really is dangerous, regularly dropping the planet into hundred-thousand-year-long glacial periods."
An estimate from NASA said that solar variations caused 25% of the 1.1 degree Fahrenheit warming that has been observed over the past century. NASA has said that there is evidence that the most recent "Little Ice Age" was caused by a dip in solar activity: "Almost no sunspots were observed on the sun's surface during the period from 1650 to 1715. This extended absence of solar activity may have been partly responsible for the Little Ice Age in Europe," during which temperatures were colder by about 1.8 degrees F than they are today.
Global Warming, man-made or sun-made, is no idle chatter among scientists.
Global Warming has very serious implications and consequences because it is used by very powerful forces in our world, behind the facade of the United Nations, to push for Agenda 21 — a blueprint for global political control.
The number 21 refers to an agenda for the 21st Century. In the name of environmentalism and sustainability, Agenda 21 is a comprehensive blueprint of action to be taken globally, nationally, and locally by organizations of the UN, governments, and major groups in every area in which humans directly affect the environment.
For Fellowship of the Minds' many posts on Agenda 21, go to the links colored dark red on our "Police State / NWO" page. Click here.
See also:
"

Agenda 21 population control map for USA

," May 27, 2012.
"

Agenda 21: Global Warming theory is baloney

," July 29, 2011.
"

Physicist says global warming is pseudo-science fraud

," Oct. 12, 2010.
"

Global Warming Nazis

," Oct. 5, 2010.
"

Ex-warmist scientist calls global warming a contrived myth

," calls July 30, 2010.
"

Now it's Global Freezing

," Jan. 11, 2010.
~Eowyn