Dealing with multiple gaming systems sometimes could get annoying. Especially the part when you need switch the inputs and keep plugging and unplugging your screen with the system all the time.
Tim has managed to solve this problem. His small DIY project ( not really small ) ended up becoming the perfect Console case for having a really simple and less painful gaming experience.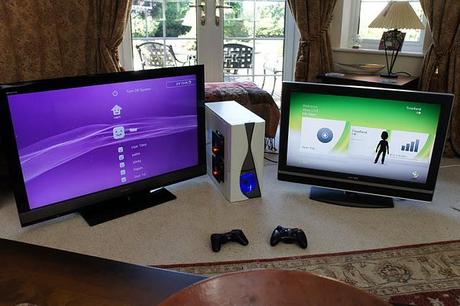 Tim managed to rip apart both his consoles and make a case which would combine both the consoles in one single case, making it easy and build an ultimate gaming system.
He even posted a tutorial for everyone to follow. And once you are done, what you have created is a single consolidated ultimate machine which is hooked with XBOX and PS3 from which you can play Xbox or PS3 games, without taking up any extra inputs on your TV or AC plugs in your wall.
Just be careful, this would take lots of time and effort and isn't that simple. Make sure you read his post very slowly try to understand what you are getting into and then start with the engineering part. This would need soldering, drilling, cutting, etc etc.
The final product is amazing, and am sure you would be customizing it in your own style.