A couple posts ago I wrote about the scenic hike I took with a few others from Cape Spear to Maddox Cove on the east coast of Newfoundland. After our hike we went to the nearby town of Petty Harbour to eat at Chafe's Landing. The restaurant is located in what is the oldest house in the community. It was built in 1878 by Edward Chafe who was a fisherman in Petty Harbour.
The menu is mostly made up of seafood, from clams to mussels to cod, but it also has some burger choices. One of these is the Ultimate Chafe Burger. This burger is your typical burger with a hefty 8 oz. beef patty, bacon, lettuce, tomato, onions and pickles. The "Ultimate" part is in the bun. The chef has done away with the typical bun and has replaced it with two grilled cheese sandwiches. Yes, a burger between two grilled cheese sandwiches.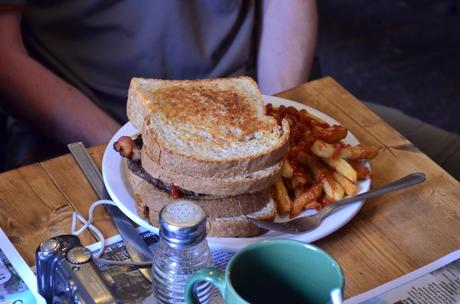 Lucky for me someone had the nerve, or in this case the "guts," to order and devour the Ultimate Chafe Burger along with a side of fries.  I was able to get a snapshot of this unique burger. Oh, and he said it was good. I must admit, it does look delicious.
For more information on Chafe's Landing, please check out their website: http://www.chafeslanding.com/index.html
What's the most unique burger you have ever eaten or seen?