STUFF YOU MAY LIKE
There is a new smart watch in town, it's called uWear Bluetooth Smart Watch. Ulefone's uWear Bluetooth Smart Watch is set to be one of the best cheap smart watches that everyone can afford.
You will all agree with me that we are now in wearable gadgets period; wearable gadgets have moved away from being tagged the "next big thing" to become the "main thing" right now.
But are consumers really ready for wearable gadgets? Oh well, from all indications, it seems consumers are now more than ready for wearable gadgets.
Ulefone uWear Bluetooth Smart Watch

This smart watch is available on discount from 21-30th September, it's only 22.99$. Please use the coupon Uwear
Big names in mobile technology are already cashing in as more and more people are now embracing wearable gadgets.
In today's techno-centric world, popular brands like Apple, Samsung, Motorola and others are competing to dominate smart gadgets markets.
Good news for consumers looking for better alternatives than the usual brands, Ulefone – a powerful Chinese mobilephone manufacturer – has come up with uWear Bluetooth Smart Watch. You too can now be a proud owner of a wearable gadget!
With awesome features such as pedometer, sleep monitor, call reception and social media notifications, Ulefone uWear Bluetooth Smart Watch is expected to compete with other big brands like Apple, Samsung, Motorola etc.
But the most beautiful thing about this smart watch is the fact that it's surprisingly cheap at just $29.99. What more do you want?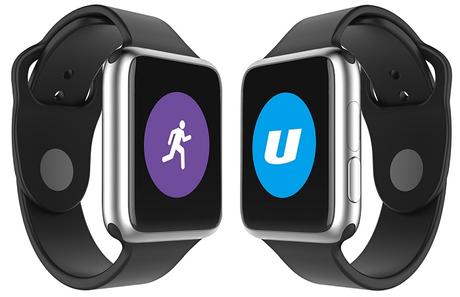 Awesome design and display
Ulephone Uwear has a rectangular shape with a display screen of 1.44 inch along and 2.5D Arc touch-screen wide viewing angle with 316L stainless steel case. Also worth mentioning is its unique industrial design – the case of uWear involves 40 different procedures.
Equipped with waterproof IP65 certificate and the band is made up with Fluoroelastomer material of the same quality as iWatch. Ulefone uWear Bluetooth Smart Watch also features a seal design to achieve waterproof, dustproof, rainproof and sweatproof even washing the face doesn't have any effect on the smartwatch.
Performance and hardware
Ulefone uWear Bluetooth Smart Watch comes with 32MB memory as well as RAM and bluetooth 4.0 version which means you can connect your smart watch to any available device via bluetooth to send or receive files.
This smart watch uses Polymer lithium ion battery, and with a capacity of 220mAh, you can expect to get total 7 days of standby time. The device is equipped with variety of features and compatible with both Android and ios smartphones.
Features and functions
Ulefone uWear Bluetooth Smart Watch is compatible to any smart phone running Android, iOS or any upgraded operating systems. Using Bluetooth connectivity you can handle your phone calls, message reminder and lots more other features.
Also, this watch comes with remote button through which you can operate your camera and music systems. Other functionalities include health tracker like pedometer, sedentary reminder and sleep monitor.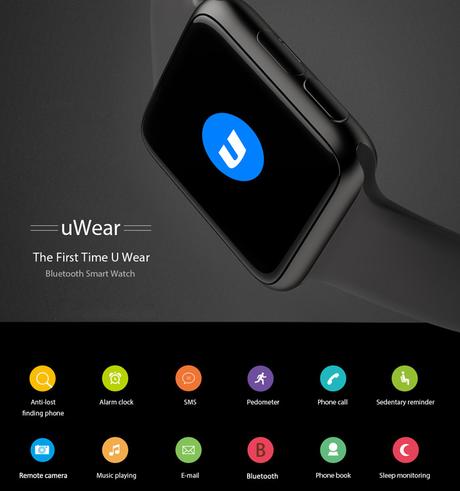 Ulefone uWear Bluetooth Smart Watch features
Pedometer / Sleep monitoring / Sedentary reminder: Your private management expert, monitor the daily movement, the quality of your sleep and remind you to have a rest. Enjoy unfettered moment while helping you achieve your health goals.
Remote camera / music: Can control your smartphone to take photos and play music, and you can enjoy the pleasure on your wrist.
Anti-lost / Find phone: Unique proximity sensor system, two-way anti lost, take good care of your smart watch and phone.
Dialer / Message: When a call or message is coming, you can check it without taking out of your mobile phone.
Information push: Can push Twitter, G-mail, Facebook, WhatsApp information, you can easily communicate with your friends or family.
IP65 waterproof: You can wear it to do daily washing, such as wash hands and face.
Price and availability
Ulefone uWear Bluetooth Smart Watch is still available on pre-order till September 30th, priced at just $29.99 and available in silver and black color.
0 votes