Hey Eric & Sookie Lovers!
Have you eaten today? Is so, please grab a barf bag because we have a spoiler you won't like AT ALL…
If you don't want to be spoiled…or soil yourself (especially in this case) by reading this, please don't look beyond the warning sign!

The Washington Post has confirmed suspicions which you will NOT like. This is what they said in their True Blood Season 4 review…
Making her way back to town, Sookie discovers that what felt like a few minutes away has actually been a year and that her friends have all written her off as dead. This fast-forward could have been a promising way to advance and reinvigorate the series. While she's been away, Sookie's mishap-prone brother, Jason (Ryan Kwanten), has become a sheriff's deputy; her former paramour Bill (Stephen Moyer) has deposed Queen Sophie-Anne (so long, Evan Rachel Wood) and has been crowned the Vampire King of Louisiana.
Say what?

Yes, you read it right and it goes against everything according to the books. Alan Ball sure does like to put his own spin on things, doesn't he?
Thanks to the Sookieverseblog for the find! We'll help you in your quest to mock Queen Bill every chance we get!

Let's start now…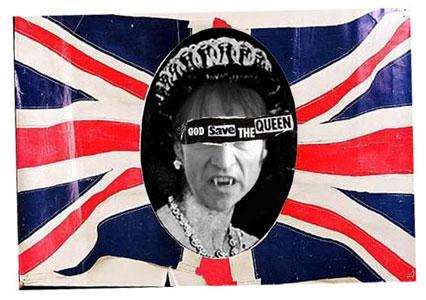 Delightful image courtesy of Serena from the Sookieverseblog
What do you think about this spoiler?
Feel free to puke and when you have time…make a comment about this below!