Tweet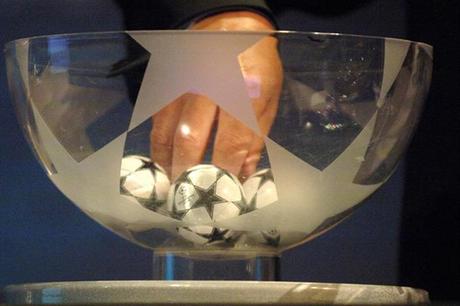 Group A
Bayern Munich
Villarreal
Manchester City
Napoli
This is the "group of death" of this year's Champions League group stage. Four quality teams means that every game should be good and evenly matched. I still believe that City and Bayern are the favorites to go through but don't count out Napoli and their trio of attackers Marek Hamsik, Ezequiel Lavezzi and Edinson Cavani.
Group B
Inter Milan
CSKA Moscow
Lille
Trabzonspor
Inter will win this group and the battle for second will be between CSKA and Lille. Lille has lost quality players Gervinho, Adil Rami and Yohan Cabaye during the transfer window. I give the edge to CSKA on making it out of the group based on that and the fact that it is really tough to travel and play in Russia.
Group C
Manchester United
Benfica
Basel
Otelul Galati
Manchester United will finish first and Benfica will finish second. Not much more needs to be said.
Group D
Real Madrid
Ajax
Lyon
Dinamo Zagreb
I am tired of Real and Lyon playing each other in the Champions League. They faced off in Knockout Stages each of the last two seasons. With that said Real will win this group with Lyon probably finishing second. Ajax has a shot but I don't think they have the quality to compete and accumulate enough points in the 6 matches.
Group E
Chelsea
Valencia
Bayer Leverkusen
Genk
Tricky but manageable group for Chelsea. Valencia is significantly weakened by the loss of Juan Mata to Chelsea but they still have quality players. Leverkusen are a solid side who finished 2nd in the Bundesliga a year ago. Arturo Vidal is a player that many teams wanted to buy over the summer. I like Chelsea to take the group with Leverkusen finishing second.
Group F
Arsenal
Marseille
Olympiakos
Borussia Dortmond
This was looking like a ho hum manageable draw for Arsenal until Dortmund hit as the last member of Group F. Dortmund won the Bundesliga a year ago and even with the loss of Nuri Sahin have an excellent team. Their defenseive tandem of Mats Hummels and Neven Subotic are excellent as well as Mario Gotze serving up passes for front man Lucas Barrios. As of right now, Dortmund are the favorites to win the group with Arsenal finishing second.
Group G
Porto
Shakhtar Donetsk
Zenit St Petersburg
APOEL
This group is wide open. No big name to be found but quality sides who always seem to do well in Europe. Porto, last year's Europa League winners are full of talent. Unfortunately they did lose Falcao to Athletico Madrid but they did bank 40 million on the transfer. They still have Hulk which honestly is one of the best players in the world you may have never heard of. He was spectacular last year for the Portuguese side. Donetsk were able to keep hold of all of their stars for now (transfer window is not closed yet). Brazilians Willian, Jadson and Douglas Costa were hot commodities over the summer. It will be a tight race but I think Porto wins the group with Shakhtar finishing second.
Group H
Barcelona
AC Milan
BATE
Viktoria Plzen
See Group C except replace Manchester United with Barcelona and Benfica with AC Milan.