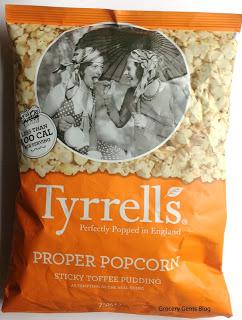 I've been getting into popcorn a lot recently, even though I never used to eat it as a snack before. There are lots of new flavours being released all the time, and a few excellent gourmet ranges, but they can be quite hard to find. I thought I would try a range that is available in a lot of supermarkets - Tyrells. Being a sweet tooth I was immediately drawn to the Sticky Toffee Pudding flavor which was released a few months ago. There are also savoury varieties available in the range such as;

Sea Salted, Mature Cheddar Cheese, and Sour Cream & J

alapeño

.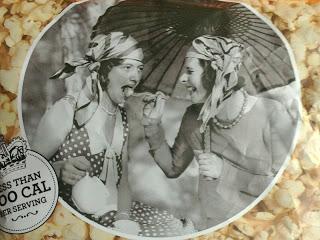 The packaging is similar to the rest of the Tyrell's range, featuring a jaunty retro looking black and white photograph. Although whatever these two ladies are feeding each other - it's definitely not popcorn. It's either an anaemic strawberry or a roast potato - you decide. But swiftly back to the popcorn itself. The consistency is excellent, with a light and fluffy, almost springy, texture. Most of the pieces are quite large and have a good colouring.They are not overly chewy which is a pet hate of mine when it comes to popcorn.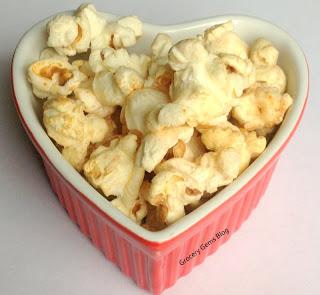 The flavouring is delicious too, although it's a much more subtle flavor compared to the gourmet popcorn I have been trying lately. It's definitely reminiscent of a classic sticky toffee pudding without being too over the top. There is an obvious toffee flavor that has a delicious treacle undertone to it, alongside a smooth buttery taste.  The flavours are all quite light, in that they don't dominate the popcorn itself. I could happily munch through most of the bag as it doesn't feel too heavy to eat. Luckily for me there are under 100 calories per serving, although Tyrell's gives a serving as only 19g. The whole bag on the other hand is 75g and provides 504 calories. Still even that is not too bad as long as I remember to share the bag with someone else...




Overall a very tasty popcorn and I can't wait to try more from the range.


Grocery Gems Verdict: Tyrells Sticky Toffee Pudding Popcorn
RATING: 9 out of 10.
Buy them again?: Yes.


Nutrition (per 19g serving):

96 calories

, 1.2

g protein, 11.6g carbohydrates (4.2g sugars), 4.7g fat

.




Purchased

:

Waitrose.




Price

: £1.50p (for 75g bag)