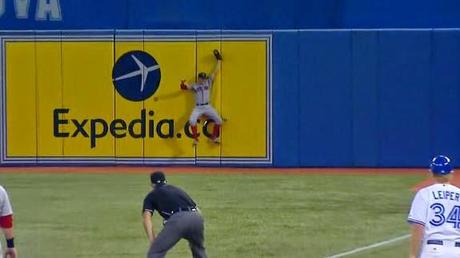 The Red Sox pitching, both starters and bullpen, have been very good all year. It was the hitting, especially in the clutch, that was killing this team's chances for the postseason.
But now, the bats are heating up and the pitching continues to shine. The Sox exploded last night in Toronto, 14-1, at the start of an important 7-game swing in Canada and St. Petersburg.
David Ortiz belted two home runs, and passed Carl Yastrzemski for 36th place on the all-time home run list. Mike Napoli and Syephen Drew also added home runs, and the Sox scored early and often to win their first blow out in some time.
John Lackey was excellent, giving up just one run on two hits (the only base runners he allowed) in seven innings. He threw only 76 pitches in getting his 11th win, one more than he had in all of 2013.
Everyone in the starting lineup had at least two hits, except for Dustin Pedroia (0) and Christian Vazquez (1). It was a season high in hits with 18. Ortiz and Drew led the way with 4 RBI each. Brock Holt made a sensational catch in right field, robbing Colby Rasmus of extra bases with the score at 14-1 in the fifth inning.
It was just one of those perfect nights we have seen very little of so far in 2014.
The Sox have now won 4 straight, and are 8-1 in the post-A.J. Pierzynski Era. They remain 7 1/2 games back in the AL East in fourth place, as Baltimore won in Anaheim last night.