Both of these took place earlier today on the White House lawn. Here's the first.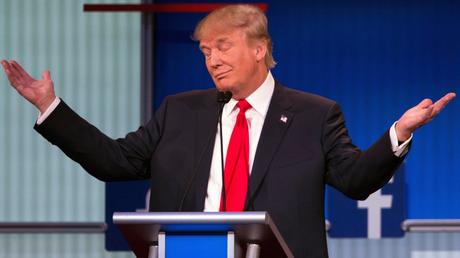 The president strode out from the White House in the morning, first appearing on Fox and Friends alongside Steve Doocy, and then taking some questions from reporters on the lawn of the executive mansion. While he covered a range of topics, and went through many of his greatest hits, the most notable elements were his praise for the totalitarian rule of North Korea's Kim Jong Un, his own declarations of criminal behavior by political opponents, and a series of easily disprovable statements about immigration law and a Justice Department inspector general's report released Thursday.
While Trump has shown surprising deference and affection for autocratic rulers in the past, including effusive praise for Kim after the summit earlier this week, Friday's comments were still unusual.
Here's the money line:
"He is the head of a country and I mean he is the strong head," Trump said. "Don't let anyone think anything different. He speaks and his people sit up at attention. I want my people to do the same."
Got that, America? Get that? This is what he wants from us. America? Land of the free? Not if he has his way.
Then there was this beauty.
The other most notable moment came during the gaggle, when reporters asked Trump about a statement to The New York Times concerning a June 2016 meeting at Trump Tower between Donald Trump Jr., Jared Kushner, and campaign chairman Paul Manafort, along with a Russian lawyer. The president dictated the statement, as his lawyers acknowledged in a letter to special counsel Robert Mueller. That statement was false and quickly debunked.
"That's irrelevant," Trump said Friday. "It's a statement to The New York Times, the phony, failing New York Times. That's not a statement to a high tribunal of judges. That's a statement to the phony New York Times."
In short, the president is saying that it's totally acceptable to lie to the press, and by extension the public, as long as he is not under oath in the justice system.
 lawyer, says it doesn't matter
From his own mouth, ladies and gentlemen. No interpreter. No other source. His own mouth.