Buying top and bottom bathing suit pieces individually is convenient and fun. Pairing different styles can minimize or maximize your upper and/or lower halves. Find out which Swimsuits Direct cuts and looks work best for certain shapes and activities.
Swim Top Tricks
Consider your overall figure to choose separates that achieve an attractive balance. To discover the best cuts for your body, answer these questions:
• Would you like to diminish your top-heavy half?
• Are you happy with your flat chest without padding it?
• Is your goal to make your small bust look bigger?
• Do you want to show off curves?
• Would you prefer more or less coverage?
• How do you feel about shoulder strap tan lines?
Large breast restraint and support: Choose secure fuller coverage swimsuit styles with wider straps to keep a generous chest in place. Avoid embellishments like ruffles, fringe, and flounces to take the focus off ample busts. Wide elastic bands under your bust line, side boning, and adjustable straps provide comfortable support.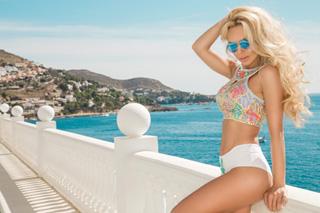 Small chest satisfaction: Try minimal coverage styles since a petite bust needs less support.
Breast enhancement: Sliding bust line straps can make small breasts appear fuller. Triangle bikini tops imitate curves. Molded foam inserts, light padding, push-up pads, or underwire lifting your chest will enhance your cup size and form more cleavage. Decorative details like front ties, ruffled or gathered fabric, and bold patterns and textures create the impression of fullness.
Busty appreciation: Plunging necklines accentuate generous busts.
Tummy disguise: Two-piece tankinis and bandinis provide midsection coverage similar to one-piece swimsuits. Extra material extends between tank bras or bandeau cups to hips. Try ruching to camouflage a belly. For help holding in and smoothing your middle, go for slimming tummy toners.
Tan line prevention: Traditional strapless bandeau tops cover your breasts and bare your shoulders to prevent strap lines when tanning. Side boning adds support to avoid spillovers. For versatility, consider styles with removable straps.
Bottom Selection Tips
Minimizing magic: If your lower hip/thigh area is broader than your upper half, look for bottom coverage that balances those proportions. Standard fixes involve skirted styles ending just below your thigh's widest part. Avoid thick-banded briefs and boy shorts. Their extra fabric makes the zone you want to hide more obvious. Plunging necklines and flashy tops draw eyes upward, downplaying your rear.
Broadening hints: Smaller swimsuit bottoms make your tiny butt appear fuller and shapelier. Ruffles, side ties, wild prints, shorts, and skirted briefs can help your lower region seem curvier.
Beach Activity Options
Active women need sporty swimwear that covers strategic areas and stays put during energetic movements while withstanding sweat and outdoor elements. These tips let you enjoy competitive fun without fear of exposing your breasts or rear.
Tops: Select sports-bra-type swim tops. Comfortable, non-restrictive styles cover and support your chest without riding up. Built-in cups will protect your breasts from bouncing when lunging and jumping. To avoid spilling over edges, skip plunging necklines. Choose higher cuts than you wear during lazy lounging and sunbathing. For swimming and watersports like surfing, pick supportive halters, tankinis, and bandeaus with center straps that remain in place in rough waves. Search for lightweight and stretchy rash guard swimsuits so your surfboard won't chafe your torso. Games like beach volleyball call for snug and secure yet limited coverage to hinder overheating.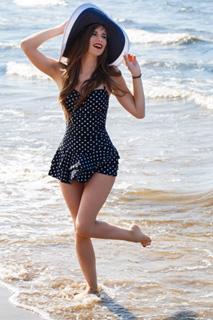 Straps: Swimsuit materials can shrink or stretch, so find adjustable straps that let you loosen or tighten your top's fit. Wider straps keep cups in position. Crisscross, racer, and H back styles centralize straps, freeing your arms and shoulders to move easily.
Bottoms: Mid-rise and high-waisted bathing suit bottoms are classy and becoming. Choose full-coverage backs so wedgies won't reveal your rear. To conceal your backside more, go with shorts or skirted briefs.
Fabric: Durable nylon and Spandex blends resume their original shapes to avoid sagging.
Custom Combo Looks
With the best mix-and-match options for your body and activity level in mind, browse Swimsuits Direct's two-piece bathing suits for trendy fashions in women's sizes. You'll see numerous choices from triangle bikinis to supportive styles for athletic pursuits. Or shop plus size two-piece swimsuits for various ways to flatter your figure. Pick lacey visions for relaxing on the sand, and sporty looks for beach games. Pair separates in coordinating or contrasting colors or patterns to customize your style.