Inviting water surrounds Italy, creating a distinctive coastline of picturesque seascapes and peaceful swimming coves. Secluded oceanfront communities will tempt you to enjoy beautiful beaches, welcoming sand, and breathtaking vistas.
Amalfi Coast
The meandering coastal road's scenic drive boasts stunning views of flowers blossoming on jagged cliffs. Stop at charming seaside villages along the Amalfi Coast. Historic Positano began drawing visitors from ancient Greeks to Roman nobility in bygone eras. Public spots include centralized Spiaggia Grande and remote Fornillo. At Marina Grande Beach, relax on lounge chairs under shade umbrellas on dark sand. Clubs and hotels offer private strands for swimming and sunbathing.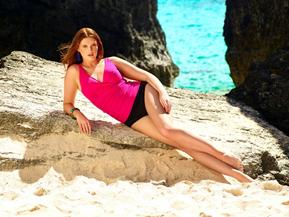 Capri
Southern Italy's rocky and mountainous island of Capri attracts jet setters and starlets. Explore top beaches from the north side's Bagni di Tiberio to the south side's Marina di Mulo. You can access most sand and water sites via beach clubs that provide facilities, chairs, and towels for nominal fees. Catch boats at Marina Grande to and from the shore to skip the steep return walk to town.
Italian Riviera
Attractions range from sunny oceanfronts to great hiking. Centrally located Cinque Terre features five small villages hugging coastal cliffs. The enchanting resort town of Monterosso supplies beaches, restaurants famous for pesto-topped pasta, and scenic hotels. Visit the free public beach or rent lounge chairs and shade umbrellas at other spots. To escape crowded areas, hike to Riomaggiore's rocky shore and farther along the Italian Riviera's seaside trails.
Shop the Swimsuits Direct Anne Cole line for tankinis in light to dark solid colors and small to large patterns. Pair bandeau, high-neck, or low-cut tops with hipster or sarong skirt bottoms.
Marettimo
Wild beauty makes every moment in the Aegadian Islands dreamy. The tiny Scalo Maestro beach's gentle angle and calm, clear water draw swimmers and snorkelers. Relish the magical feeling of bathing in a refreshing Mediterranean grotto. Charter boats offer tours featuring hidden Marettimo sea caves.
Sardinia
Costa Smeralda, the Emerald Coast, is the home of stunning blue grottoes and azure waters. Sardinia's northeast bank is a royal haven featuring a gorgeous 35-mile shoreline. Expensive posh resorts flaunt a regal Mediterranean flair and private strands. Visit Spiaggia del Principe, the Prince's Beach, where dense shrubbery surrounding the secluded paradise ensures solitude.
Sicily
Unique getaways feature white or exotic black shores. Mondello Lido's coastlines are close to the Palermo capital. Eastern Taormina allows fun access to Lido Mazzaro's best beaches. Climb aboard funiculars, which are cable cars, for quick trips. Feeling adventurous? Ride boats from northeast Milazzo to the Aeolian Islands' black strand. The Vulcano isle's Spiaggia Sabbie Nere offers dark-colored volcanic sand, calm water, and nearby hot mud baths. Sicilian seaside eateries, bars, and hotels provide vibrant after-sundown diversions.
Browse Leilani tankini bathing suits for subdued, bold, and deep shades or fun and exotic prints. High-neck, scoop, keyhole, and plunging-neckline tops hang over basic or skirtini briefs.
Tremiti Islands
San Domino, San Nicola, and Caprara form an enchanting string of islands, the famous Pearls of the Adriatic Sea. Wild vegetation like orange blossom, fig, myrtle, and pine trees gained San Domino, the most developed and sizeable landmass, the Green Pearl nickname. Sand and rock beaches feature rugged limestone cliffs. No other Tremiti isle offers tourist restaurants and hotels. Catch boat rides from various oceanfront towns like Pescara and Termoli.
Tuscany
Quaint coastal villages and white sandy banks are welcoming. Marvel at Western Maremma's 100-mile shoreline above the crystal-clear ocean. For water sports from windsurfing to sailing, visit Castiglione della Pescaia. Head south to Monte Argentario's bays and coves for premier scuba diving. Farther south is Viareggio, Tuscany's biggest beach resort town. Its thrilling Carnival festival dates back to 1873. Attractions include seafront promenade, art nouveau buildings, endless food, and bustling nightlife.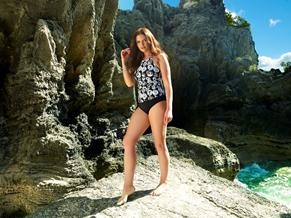 Venice
Strikingly beautiful and golden powdery shores earned Venice its Island of Gold nickname. A 10-minute waterbus ride departs St. Mark's Square for Lido, a sandbar spanning nearly seven miles in the Venetian Lagoon. Grandly historic Lido hotels charge fees to access the finest beaches and enjoy amenities like elegant cabanas and thatched huts.
Check out our full line of tankini swimsuits that includes even more vacation-ready possibilities from other popular designers. The trendy variety of styles, colors, and patterns is so appealing, you'll want to order enough to wear on alternate days.