There were three judicial rulings announced today. Two of them went well for "the little guy", fortunately. 
Here's the first: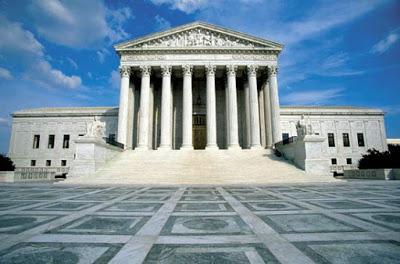 Supreme
Court
 unanimously rejects 
GOP
challenge
 to VA districting case
WASHINGTON —
 The Supreme Court on Monday left in place a lower court's ruling that Virginia's Republican-led legislature unlawfully considered race when drawing U.S. congressional districts by packing black voters into one of them in a move opponents said diluted black electoral clout.
The court ruled 8-0 against current and former Republican U.S. House of Representatives members who had challenged a June 2015 lower court ruling that threw out the district. The justices found that the Republican lawmakers did not have legal standing to bring the case.
The focus of the case was on the composition of the majority-black U.S. House district held by Democrat Bobby Scott, the only black member of Virginia's congressional delegation.
Following the June 2015 ruling, some black voters from Scott's district were moved to an adjoining district, which is currently represented by white Republican Randy Forbes, one of the challengers in the case. This could make the district a possible Democratic pickup in the Nov. 8 election.
Seems a pretty crystal-clear case of redistricting to help your own political party while, at the same time, weakening the votes and choices of some of your fellow Americans. Unfortunately, as we're used, they just happened to be black. This has gone on far too long.
What happened:
Washington (CNN) 
The Supreme Court ruled Monday morning in favor of a death row inmate in a case concerning race discrimination in jury selection.
Timothy Tyrone Foster, an African-American, is on death row in Georgia for the 1987 murder of an elderly white woman, Queen Madge White. The jury that convicted him was all white. Twenty years after his sentence his attorneys obtained notes the prosecution team took while it was engaged in picking a jury, including marking potential jurors who were black had a "b" written by their name.
There's more to the story, of course, but you get the idea. I've followed this case for some time and it did seem a clear example of a true travesty of justice.
The final case is the one that didn't go so well, at least in my own and a lot of people's eyes:
Again, what happened:
BALTIMORE — 
A police officer was acquitted of all charges on Monday in the arrest of Freddie Gray, a black man who sustained a fatal spinal cord injury while in police custody. The verdict is likely to renew debate over whether anyone will be held responsible for Mr. Gray's death.

The officer, Edward M. Nero, sat with a straight back and stared forward as Circuit Judge Barry G. Williams, who ruled on the case after the officer opted to forgo a jury trial, read his verdict on the charges of second-degree assault, misconduct and of reckless endangerment.
"The verdict on each count," said Judge Williams, concluding his reading after about 30 minutes, "is not guilty."
"The state's theory has been one of recklessness and negligence," Judge Williams said. "There has been no evidence that the defendant intended for a crime to occur."
So a guy, a black man, gets arrested and thrown in the back of the police van, then suffers a broken back from the ride and dies?
And no one is accountable?  
That's still who we are?
Then, to make things worse, there's this:
A lawyer for Officer Nero, Marc Zayon, called for the charges against the remaining officers to be dropped.
Not a surprise, likely, to most, but still disappointing.
So, again, two out of three. 
Not great but it's something.