Here's the situation … runner on second base with two outs.  A ball is hit to an infielder who bobbles it and throws to first base.  The play at first will be a bang-bang play. If the runner is out, it's inning over.  If the runner is safe, there is a very good chance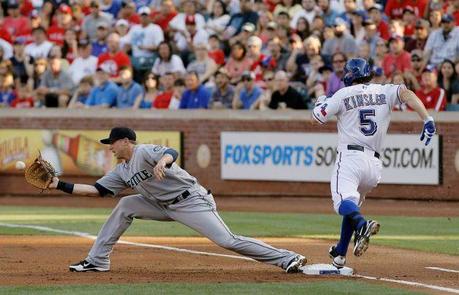 Two out close play? Be ready to throw home!
the runner who was on second base at the start of the play is going to round third and try to score.
This is where some heads up communication before the play is needed.  Hopefully several people (coaches, catcher, pitcher, etc.) remind the first baseman to "throw home on close plays at first."  You don't want your first baseman to stand and wait for the out-safe call from the umpire.  If he waits and hears/sees the safe sign, it may be too late to throw home.  It must be automatic.  As soon as he catches the ball at first he'll have to make a quick throw home.  If the runner at first was out, no big deal.  If the runner at first was safe, the correct throw to home was not delayed.
In my experience, there is almost always a delay between catch and throw.  That's because of two reasons.  1) Rarely is it practiced this way and 2) rarely are first baseman (and catchers) reminded of this before the play occurs.
Build this play into your practices and make sure your players know to remind each other of the play with two outs and a runner on second.
Tomorrow's post: No reflexive swings!