TAKEAWAY: Call them the red hot topics among newspaper publishers and editors: frequency of publication, and the rebirth of evening editions.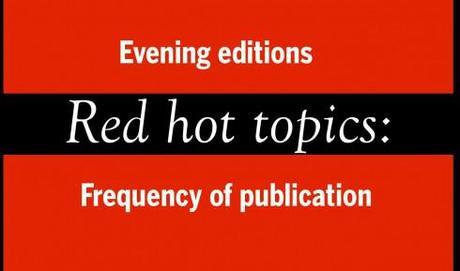 If someone asked me today what the two most recurring topics for the newspaper industry will be in 2013—-and long before——they would have to be the following:
1. Frequency of publication for printed newspapers in a multi platform world.
2. Evening editions making a comeback, via digital platforms.
In the past few days I have been putting together a short presentation that I will give at the WAN IFRA Congress in Kiev, Ukraine, September 4.  It is a high level panel with the catchy title, Print Plus.
Print is the main subject of our discussion.  The Plus could refer to a variety of things, although I am not sure which: plus other platforms, plus survival strategies, plus the reality of a changing industry and shifting audience preferences.
Whatever it is, I am happy to participate, as I believe that there is Print in our future (albeit with much adapting and tremendous change), and I agree that all the Pluses mentioned above are authentically worthy of discussion.
But the two recurring themes of frequency of publication and the evening editioning will capture the attention of publishers and editors.
Just this week, the two topics have moved front and center in media news.
Topic #1: The (Harrisburg, Pa.) Patriot-News, which won a Pulitzer Prize for its coverage of the Penn State scandal, and The (Syracuse, N.Y.) Post-Standard, a newspaper that we at Garcia Media had the honor of redesigning several years ago, and which was my local newspapers the many years I lived in North Syracuse,  are following their corporate siblings in Alabama and New Orleans to a r
%0A">
%0A" title="educed printing">educed printing schedule.
The newspapers will print Sundays and two other days to be decided.
Everything points to the day when there will be perhaps only the printed Sunday newspaper, or a combined weekend product (which many European newspapers have done for years): robust, contemplative, full of rich analysis, perhaps enhanced sections on culture, science, technology and creating a rich lean back experience, perhaps a salute to the days when we could kick off our shows, disconnect totally and just engage with ink, paper and good content. For some major dailies, the time is now to start making such plans.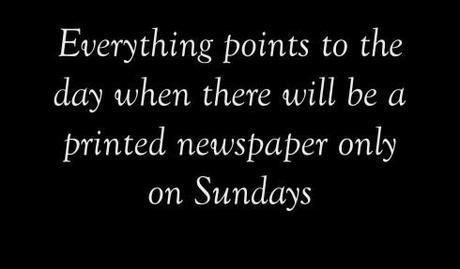 Topic #2: Evening Editions moves to the front with a new Evening Edition , a summary of the day's news, written by an actual journalist, with "links to the best reporting in the world, published once a day." Designer
http://weblog.muledesign.com/2012/07/evening_edition.php" title="Mike Monteiro">Mike Monteiro, its creator, says it's optimized for your phone or iPad so you can read it on the train home or on the couch. It can be the starting point for a deep-dive or just enough so you sound erudite at your next cocktail party. What it's not, and what it will never be, is another chirp of noise constantly guilting you into checking it. It's breaking news for the slow web."

Take a look at Evening Edition:
http://evening-edition.com
Of interest today
For those who think that because news originates on Twitter or Facebook, professional journalists find themselves at a disadvantage, here is an item that will prove differently.  Of course, journalists have perhaps lost the time advantage, since the social media networks get there first most of the time, but after the 140-character burst of "news" the rest is up to professional journalists to execute.  People still prefer trusted professional journalism and what it offers, even if they heard the breaking news elsewhere.  Good to reaffirm this point.
Mobile users still prefer trusted professional journalism
http://www.rjionline.org/news/mobile-users-still-prefer-trusted-professional-journalism
First paragraph:
As sharing news on social media sites continues to grow, mobile users still prefer to get their news from trusted mainstream news sites rather than their friends. In addition, users strongly favor news stories produced by professional journalists. In part five of the Media News Consumption Survey the Donald W. Reynolds Journalism Institute examined how mobile users and non-users view the news media.

Why am I not surprised to read that 2/3 of the young carry a smartphone and that they love YouTube?

Four things you need to know about young people's media habits

http://www.themediabriefing.com/article/2012-08-24/four-things-you-need-to-know-about-young-peoples-media-habits
 Highlight:
The ground is ever shifting under physical and digital content professionals' feet. But here are four datapoints from reliable and consistent sources that should be shaping your content and distribution strategies.
Sign up to get information on my new digital book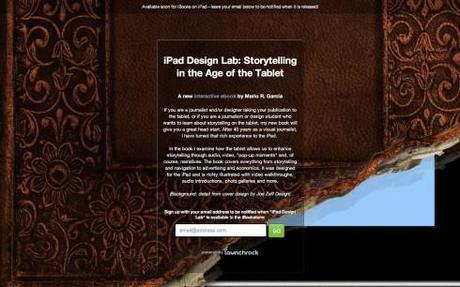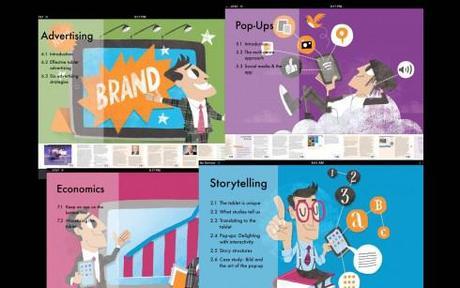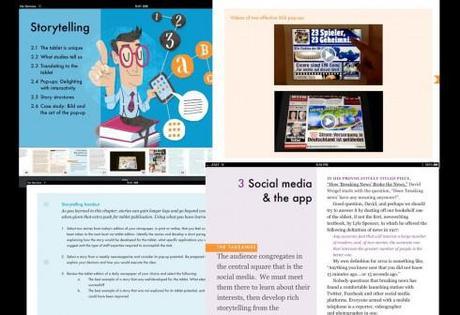 Assorted screens from the book: top, chapter openers all of which are color coded and carry illustrations by Luis Vazquez, of the Gulf News of Dubai; second image, opener of Storytelling chapter, and two inside screens.

As we get closer to publication date for The iPad Lab: Storytelling in the Age of the Tablet, we are now set up so that you can give us your email address and you will automatically be informed when the book is ready for download.
I admit it is an exciting time for us at Garcia Media and for me personally, as my first digital, interactive book, The iPad Design Lab: Storytelling in the Age of the Tablet, gets much closer to publication.
Now you can leave your email address so that you will be updated and informed the moment the book is read for download.
As I review this final version of the book—-is it ever final, especially with a digital book that can be easily updated?—-I am happy with what I see, the result of 8 months of hard work, assisted by my very able co pilot Reed Reibstein, who has edited and art directed the book.
The book's audience is anyone with an interest in tablets—-including people NOT directly involved in the media but who use the iPad and would like to know more about the thinking that goes behind getting stories, features and visuals into the new platform.
The premise of this book is that the emphasis should be on storytelling.  But we know that most of the news apps today emerge from the content that is published in their sister print publications.  My book aims at describing how this content can be adapted especially for the tablet, where multi sensory, interactive experiences are possible.
As such, the book is ideal for practitioners of our craft at every level, from reporters, designers and editors, to publishers and managers.  At the same time, the book is especially crafted to be a college textbook and companion in any number of university courses, from writing/editing to design and even business courses.
I hope you share our excitement. I urge you to leave us your email address so that you can be kept updated about publication date:
Simply go here:
comingsoon.ipaddesignlab.com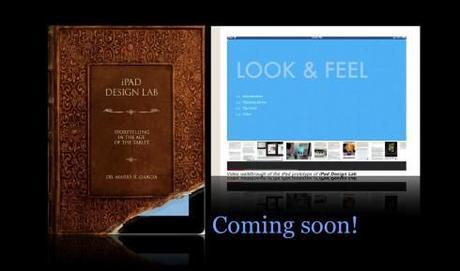 Video walkthrough of the iPad prototype of iPad Design Lab
SPD

: Speaker Series Begins with "News You Can Use

"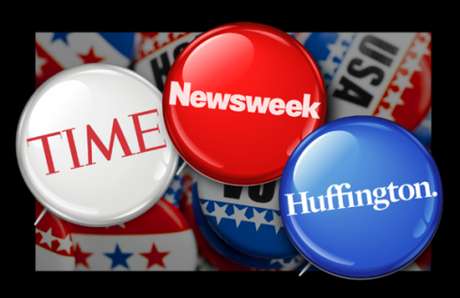 (Joe Zeff Design Illustration, courtesy of SPD)

Tickets are now available for the Society of Publication Designers' first Speaker Series event of the fall, "News You Can Use," scheduled Sept. 10.
For more information:
http://www.spd.org/2012/08/speaker-series-begins-with-new.php
SND

Scandinavia Space 2012 conference

Still time to get a spot to attend the SNDS conference in Copenhagen, Sept. 27-29;

For more information:
SNDS workshop ever. Read all about SPACE 2012 here:

http://snds.org/get-your-own-space-guide/#more-1852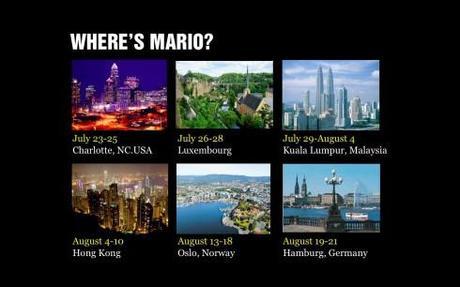 Mario Garcia's upcoming speaking engagements: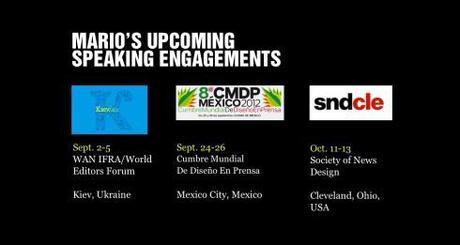 WAN-IFRA World Editors Forum, Kiev, Ukraine, Sept. 2-5
http://www.wan-ifra.org/events/64th-world-newspaper-congress-19th-world-editors-forum
Cumbre Mundial de Diseño en Prensa 2012: Mexico City; September 24-26
http://www.cmdprensa.com/mx2012/
SND (Society of News Design) Cleveland; Oct. 11-13
TheMarioBlog post #1087