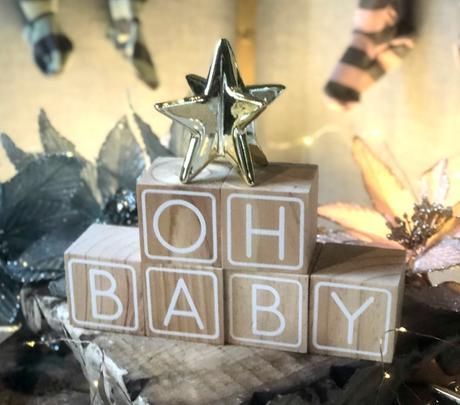 Big news here at the


Beardsley Home

Jeff and I will be expecting our very first 

Grandbaby!!


People have been asking me for yearsif I was anxious for Grandkidsnow that my three are grown and flownand two of them married.
I always repliednoI wasn't excited.
I was still getting used to our empty nestand this life transition.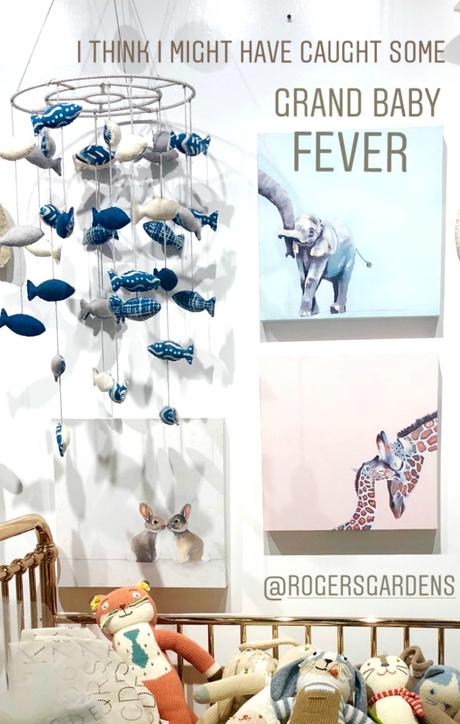 But a couple of months agothat feelingmysteriously began to change..
Maybe it was a softening of my heart.
Maybe it was following along with my dear friendTrina(you can find her beautiful blog HERE)as she embraced and celebratedher own gorgeous Grandchildrenand love of family!
But for the first time everI was at Roger's Gardenin their new children's boutiqueand it came over me like a mistmaybeI would like to have Grand babies in the family.
It actually sounded good to me for the first time ever.
I moved from not really wanting any Grandbabies anytime soontoI hope I have some before I am too old to interact with them.
Noticed I said Grandbabiesnot that I wanted to be a Grandmother.It's quite funny how some words are trigger words.I could definitely embrace for the first timehaving 

Grandkids.

But that second nounwould definitely need some work.
Two weeks after this I can remember it so vividlyI was walking through a hall in our homeand it came over me that there was 


A New Soul

on it's way .


I was for the first time in a long timeovercome with a sense of purpose.
I had no idea at the timewhich of my threewould be on their way to becoming parentsoreven how soon.
Just that there was someone on their way to our family.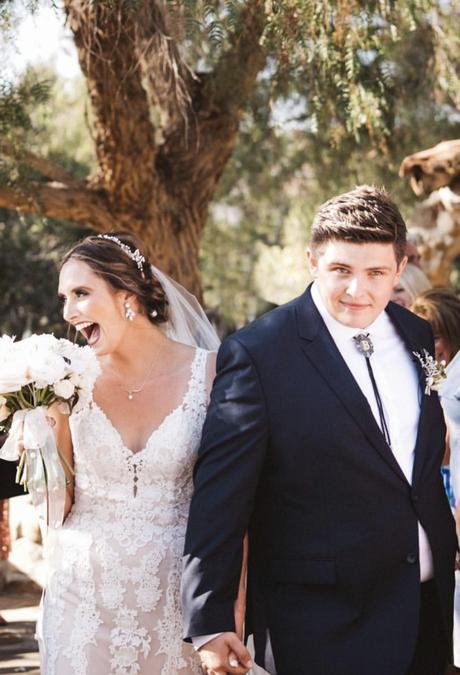 Guess who it was?
These two newlyweds 

Hunter and Megan!


After dealing with so much this last yearIt was ever so lovelyto have

 happy 

family news!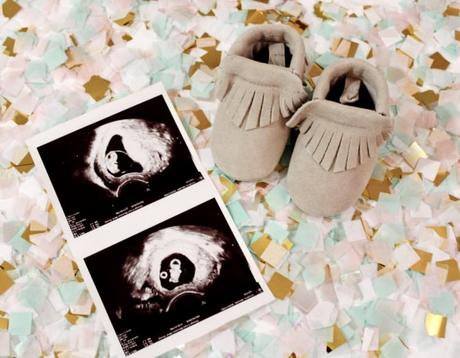 Hunter

and

Megan

announced their big news a couple of weeks ago on Instagramwith this adorable image!
So with this big newsI knew 


A Gender Reveal Party

would be a fun way to celebrateand 

Witness a Life Moment.


Megan and Hunterwanted to learn the gender of their babywith their family and dear friends!
To methat was a wonderful, generous gift to us all!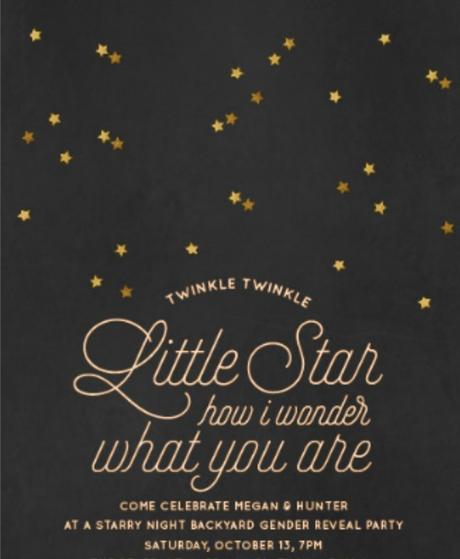 In the beginning of the party ideationI was thinking simply cake and champagne in the backyardto celebrate a moment.
But as so happens when my daughter

Ellis

 and I do a partyit grew into a full on concept partycomplete with adorable invites!
TWINKLE TWINKLE LITTLE STARHOW I WONDER WHAT YOU was our theme for the evening.
These sweet invites are fromMintedWe have used this company for most all of our invites of late.
I highly recommend them!They are easy to work withand always deliver quality invitesin a timely manner.
I love a lined envelope alwaysand they have a multitude of choices always!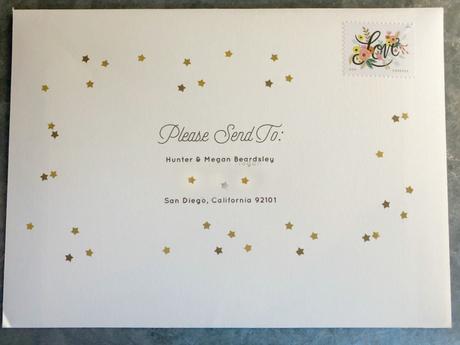 Another huge party perkyou can order the envelopes already addressed!
And how sweet are the addition of twinkle stars that came on the front!
I just adore adding in all the little details.An invite always sets a tone for an event!And snail mail does it best!
I like to think of an invitiationas a little gift in the mail!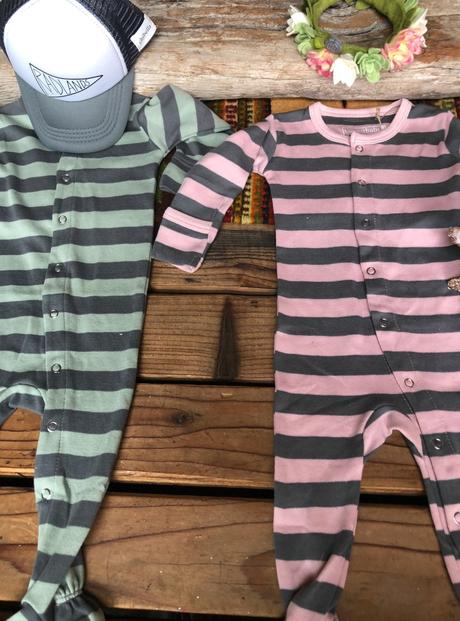 Since I have big clothes and accessory loveI wanted two gender outfitsin complementary  formwith of coursecomplementary head wear.
How absolutely adorable is this infant trucker cap for himand a felt succulent crown for her!
I built the whole tablescape around these for my  centerpiece.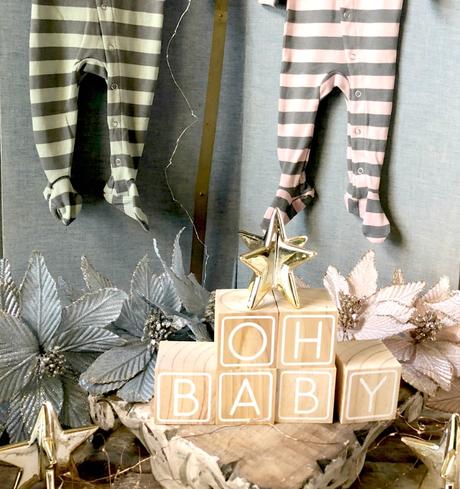 I hung them on . a vintage screenand started building the tablescape from there.
I knew I wanted to do off hues of the typical blue and pink.I wanted to have the party leaning to the side of elegant.I used a minimal of blue and pinkadding in woods, golds and lots of twinkle lights and candlessince it was an evening party.
 I ordered the blocks from

Anthropologie

I was so happy to find their nursery items!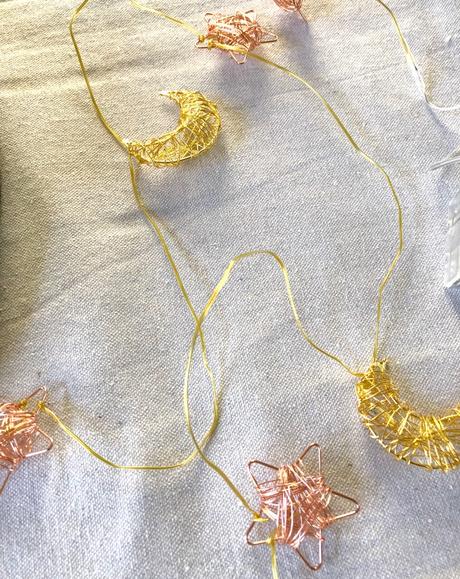 As well as these sweet lights with moons and stars.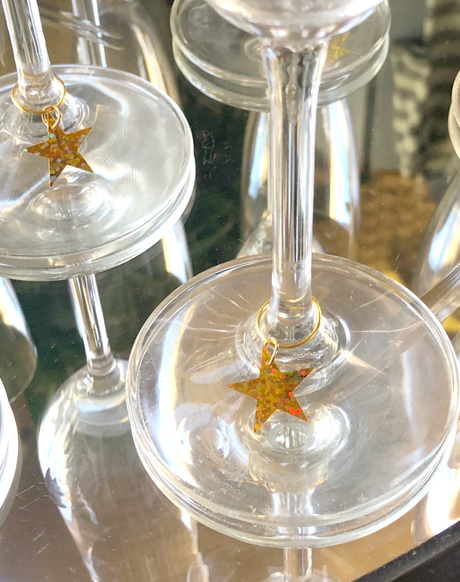 I had champagne glasses with star charmsto further carry out our twinkle theme.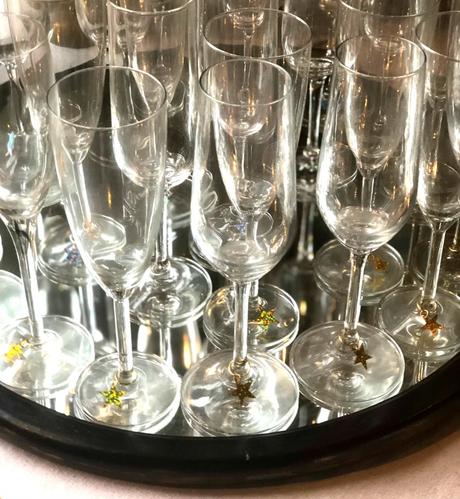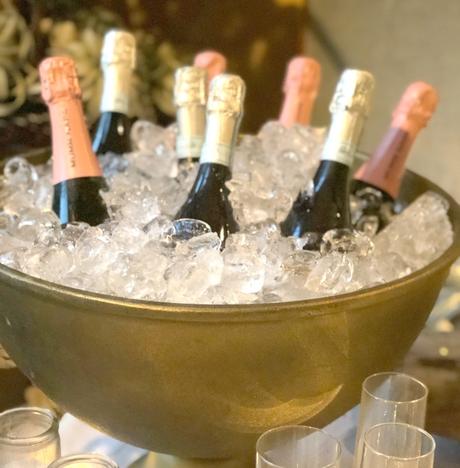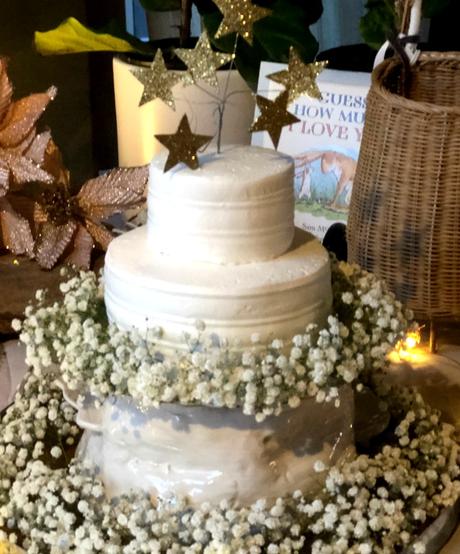 The cake was store bought, without detailso I could finish if off with a bouquet of gold glitter starsand babies breath.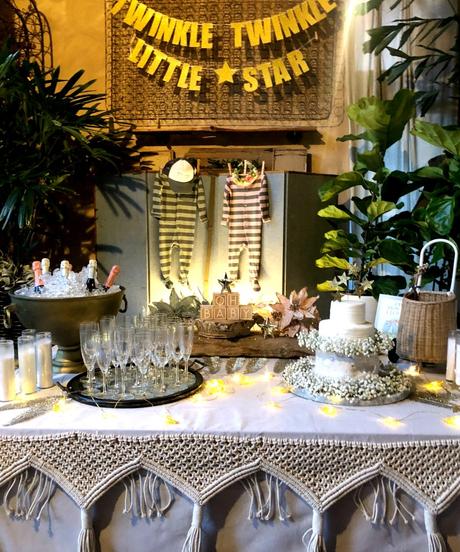 We brought the party theme all the way homewith a gold glitter Twinkle banner.
The table cloth was my usual drop clothfinished with macrame garland all around.
You can see how each added elementfinishes off the tablescape.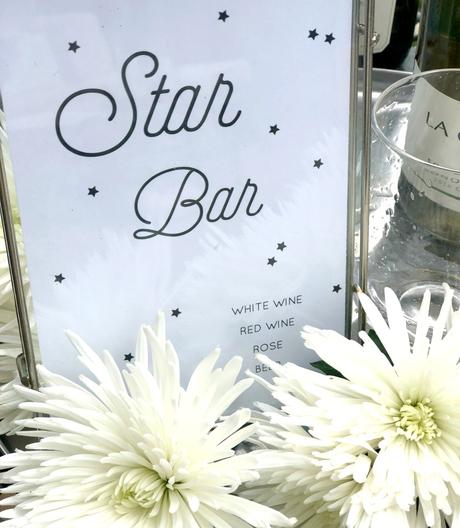 My darling daughter Ellisreally finished things off with lovely signage.Not only explaining each stationbut adding words that once again tied in the party theme.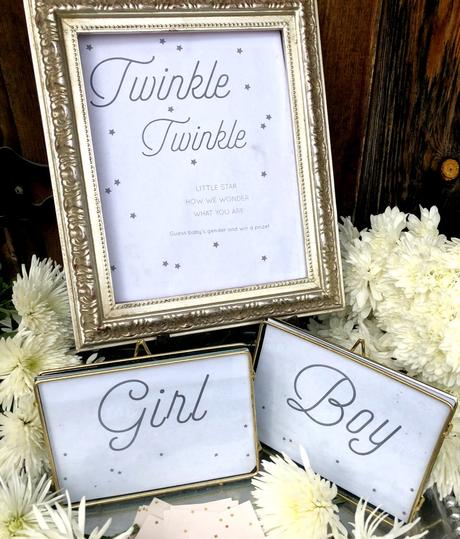 To keep the party interactivewe added in a game.
Everyone was invited to put there name in a jardepending if they thought the gender was going to bea boy or a girl.
Once it was revealedwe drew a name from the winning jar.The winner received a gorgeous gold Voluspa candle!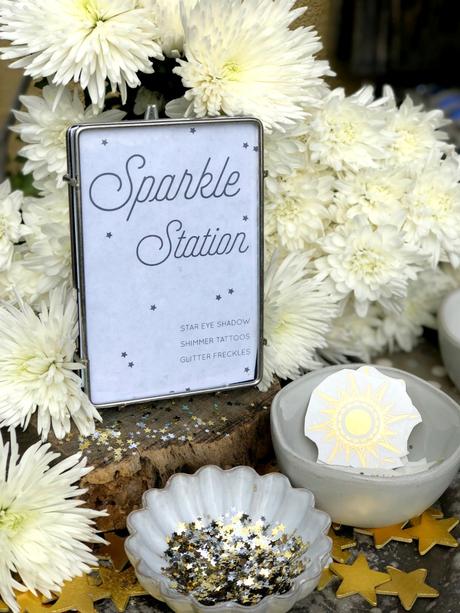 How fun is this Sparkle Station!Another chance for party interaction!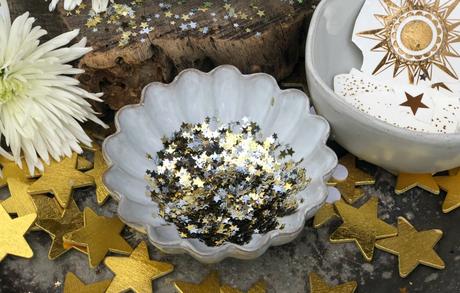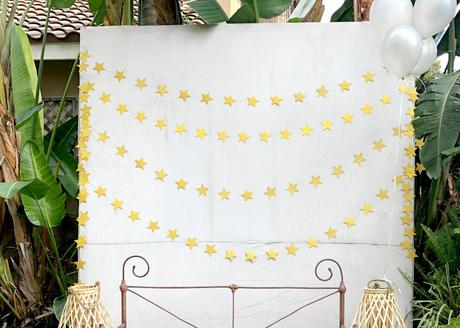 Our photo backdrop was dressed as well in gold stars.This deck and backdropmade for the perfect 'stage'for the reveal!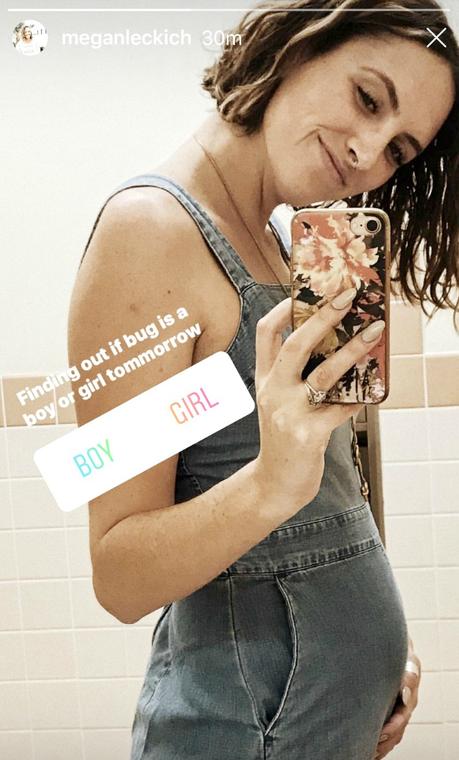 And speaking of adorablehow cute is our little Momma to be!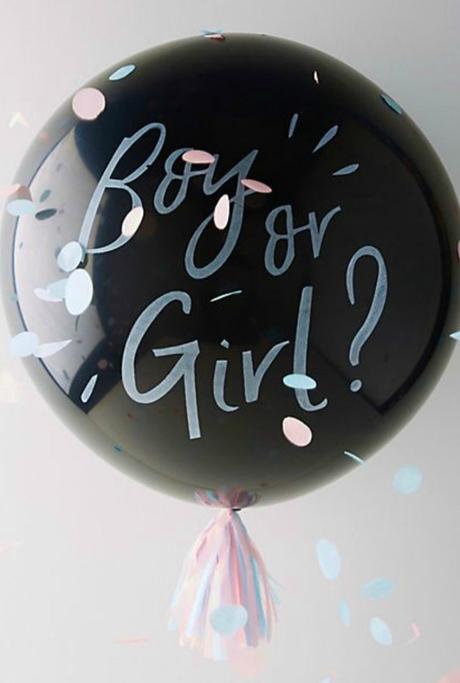 With so many different ways to actually do the 'Reveal'we chose the dramatic balloon pop!
It ended up to be a wonderful choicebut I must admit I was a bit apprehensive about it popping before hand!
We ordered this one from Anthropologie as well.I knew I was more than happy to pay a little morefor a quality I could trust.
At the party none of us new the gender before hand at all.
Jeff printed off the informationwithout reading itplaced it in an envelopethat was given to the manager at our local party store.The balloon was then filled with the corresponding gender color.
When the balloon was popped the color would Reveal the Gender.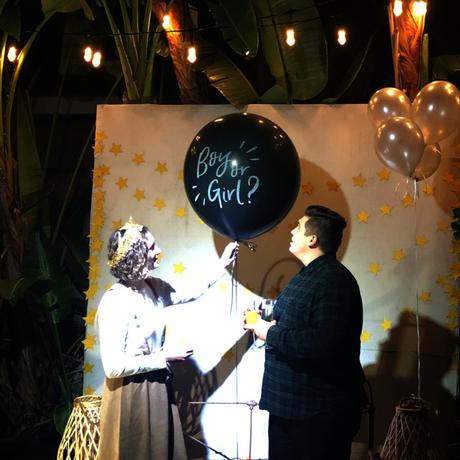 They had no idea the gender here.At the party there was an overwhelming leaning it would be a boy!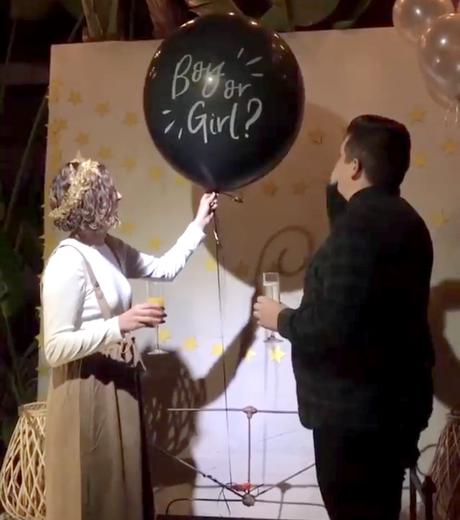 Hunter needle in hand ready for the awaitedPOP!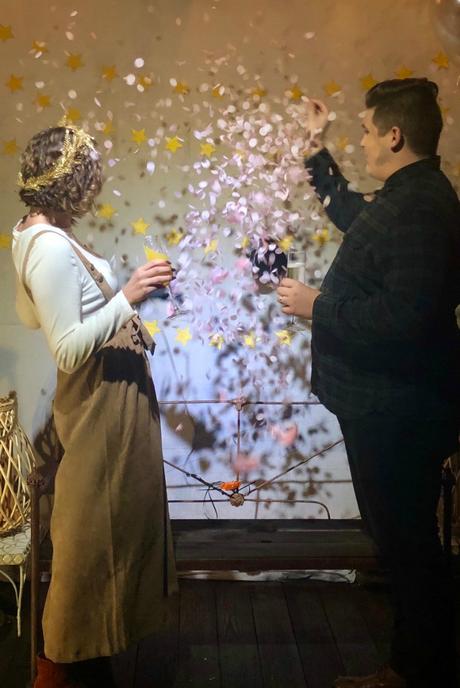 It's a Girl!!!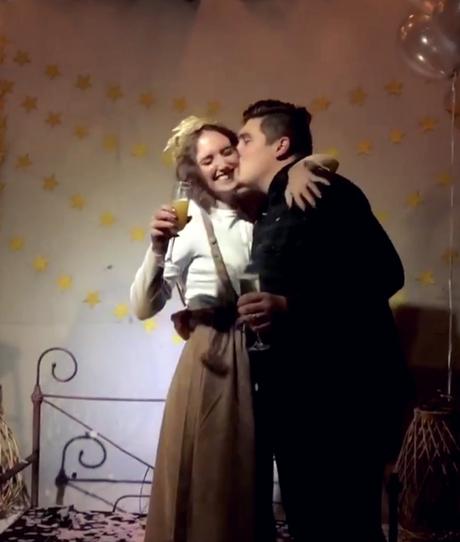 It's one lucky childto have these two wonderful souls as parents!!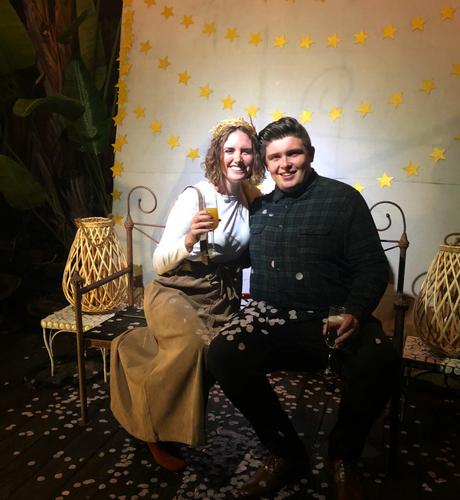 Cheers to New Beginningsand welcoming this new soul into the world!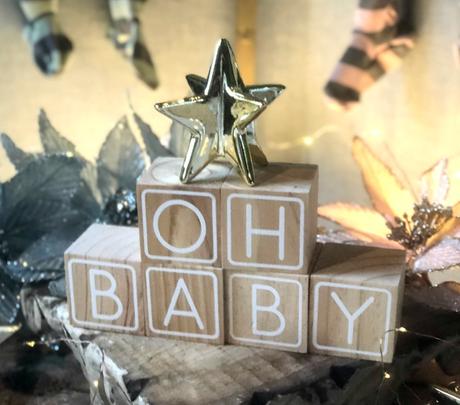 As always my friends


I wish you love and joy

as you style your life