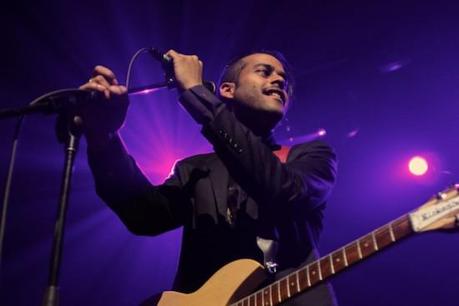 Photo credit: Eric Weiner
This past Friday night, New York City was treated to a show of epic proportions.  The evening began with Diamond Rings, a one man act that was exactly as the name suggests: bright, vibrant, but at times in need of a little more embellishment. Despite catchy melodies and John O's booming, deep voice, songs that involved only a drum track and keys failed to really fill the room with sound — likely the result of a bad mix. When he began incorporating more guitar, though, it was like listening to an entirely different set. Dancing around to fantastic riffs and clever finger picking, he crafted a much more involved, layered sound, allowing the show to feel more like a full-blown production. Despite these ups and downs, though, I came away wanting to see Diamond Rings again — perhaps at a smaller, louder venue (Glasslands, anyone?).
And then, of course, we were graced by the presence of Twin Shadow.  I have to admit, I'm a sucker for well-done, contemporary new wave — and in recent history, Twin Shadow is certainly one of the most intuitive and genuine in a sea of bands trying to achieve a similar throwback feel. Lead gentleman George Lewis Jr.'s debut album Forget has poetic lyrics, unbelievably catchy synth beats, and deep, expressive vocals that sounded even smoother live. Lewis was backed up by a drummer, bassist, and keyboard gal (sporting a sequin dress that sparkled around like a disco ball, adding to the overall 80s nostalgia I was secretly hoping to get out of a Twin Shadow show).
Their sound instantly filled up the entire space, starting off the set with a teeny "Castles in the Snow" tease into "Yellow Balloon" (consequently initiating the familiar 'oh-my-god-the-floor-is-going-to-collapse' glory of dancing at Webster Hall — and I literally could not stop until it was over). Highlights were definitely "At My Heels", "When We're Dancing", the funky bass line on "Shooting Holes" and wrenching chorus of "Tyrant Destroyed", and an exciting new tune we can be sure to find on his sophomore album. I would have liked one of the more popular tunes to be saved for the end, but the guitar shredding and extended jam abilities on "For Now" made for a great encore. A fantastic show, hands down.

View Photo Album

View Photo Album