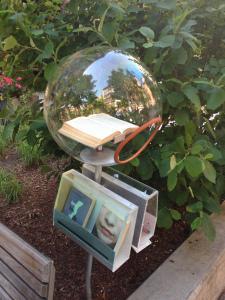 This week, I found myself in Greenwich Village, in the soaring spaces of Hebrew Union College, explaining my book, Being Both, to a Jewish audience. On entering the doors of the Reform Jewish seminary, I thought of my great-grandfather, an early Reform rabbi who plied his trade up and down the Mississippi River.  And I thought of my great-uncle, Rabbi Joseph Rauch, a pioneering Reform rabbi who dedicated much of his life to interfaith dialogue and community service. He was ordained at Hebrew Union, got a doctorate at the Southern Baptist Theological Seminary, and was a founding member of the World Union for Progressive Judaism. In their memory, and because of my love for this religion, the religion my interfaith parents chose for me, I educated my children in Judaism.
Mingling with hundreds of other Jewish authors and book-lovers at Hebrew Union, I was struck, once again, by the support of the Jewish community for literature. At a moment when print media and books on paper seem to be receding and evaporating into a shrinking sea of concentrated nostalgia, I found lower Manhattan still standing in a deep and refreshing literary culture.
Strolling back up to Penn Station to catch my train home, the city kept tempting me with books. I passed Shakespeare and Co., the Strand, and freelance second-hand booksellers arranging classic hardbacks on sidewalk folding tables. Magically, a "free library" of whimsical clear plastic bubbles filled with books-for-the-taking sprouted on a public terrace.
As I approached East 10th Street and Broadway, the Gothic revival masterpiece that is Grace Church, a landmark Episcopal church dedicated in 1846, rose up from an oasis of green gardens. It was as if my wandering through the city had led me straight from my Jewish yin to my Episcopalian yang.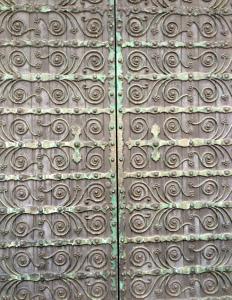 My children have a great-great-grandfather who was an Episcopal bishop of Newark. They have a great-uncle who is an Episcopal priest, and an uncle in the process of ordination. This branch of the family has included journalists, authors, and an English professor. They, too, are people of the book. To ensure that my children would understand the significance of this family history, and the practices and beliefs they represent, I chose to educate my children in Christianity, as well as Judaism. How does that work? In short, I wrote my book to answer that question.
Recently, John Shelby Spong, a former Episcopal bishop and the author of many groundbreaking books (including the forthcoming The Fourth Gospel: Tales of a Jewish Mystic), wrote about Being Both: "A moving, personal story that opens new dimensions of life in general and religious life in particular that rise out of an interfaith family…Its insights moved me deeply." I am so grateful for these words.
Arriving home in Washington this week, disembarking from the train at Union Station, I averted my eyes from a temporary wall covered with ads for an international clothing store chain, coming soon. The wall sealed off a dead space that had housed a bookstore, only a few weeks before. At least this time, I refused to let the loss of another bookstore bring me down. I was still floating in my swirling, iridescent bubble of books. And I plan to stay there.