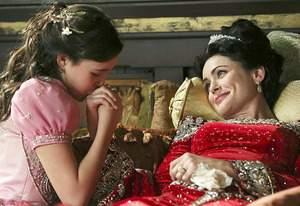 Snow White's mother is coming to Once Upon a Time - and TVGuide.com has the exclusive first look!
Queen Eva (Rena Sofer), the mother of Ginnifer Goodwin's Snow, will appear via flashbacks in an episode slated for early March, in which we'll also see Bailee Madison return as young Snow White.
Queen Eva will have a "surprising connection to someone else in our world," executive producerAdam Horowitz tells us. As for whether that means Cora (Barbara Hershey), whom many have suspected had a hand in Eva's death, executive producer Edward Kitsis would only add, "That would be a feud that goes back so long." As we've previously learned, Queen Eva's fate is ultimately grim, since Regina (Lana Parrilla) went on to marry Snow's father King Leopold (Richard Schiff).
In the episode, we'll also see a new side to Snow White we may not have seen before. "You would think it would be easy to be Snow White's mother, but perhaps Snow White wasn't always Snow White," Kitsis says.