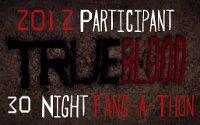 There's only 3 more days until True Blood Season 5…which also means that Fang-A-Thon 2012 will soon be over. This is Day 28, of my fangalicious Fang-A-Thon posts! And this one is definitely something you'll enjoy!
I was going to switch to the books, but when I came across this bad boy I couldn't resist!  So, this post will focus on True Blood once again! And contrary to my last few posts – this doesn't contain any spoilers either! I know, I'm shocked too! LOL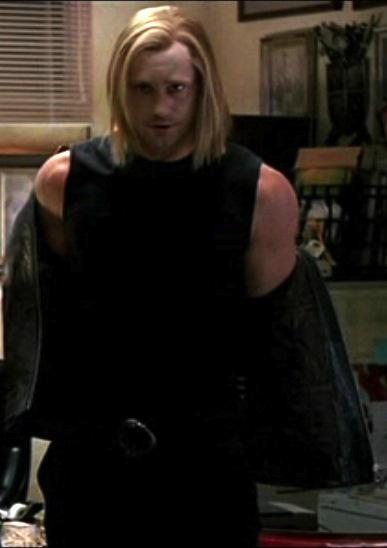 Do you remember when Sookie and Pam caught Eric banging Yvetta in the basement in Season 3? I'm still impressed they were at it for 6 hours. Do you remember when Eric pleaded with Sookie to suck the bullets out of his chest (even though he would eventually heal) wearing a sexy, devious smile while she's doing it? Eric was a big A-hole, but was definitely sexy too. Do you remember when he conveniently arranged for Bill's maker, Lorena to show up so he would be the one to save Sookie from the FOtS in Season 2? Oh yes, as if we could forget when Eric pretended to be one of the members, speaking in a Southern twang.
Those are all reasons we think Eric is a naughty bad boy!  (We won't get into what he's done in the books, which convinces us of this fact too.)  We love bad boys and Eric is the sexiest of the bunch! This is why when I read this post from MSNBC.com, I just had to share it with you!  I know you'll happen to agree with what they said too.
Blood. Sex. Deliciously bad boys. It must be time for the return of "True Blood"! Few shows currently on the air have perfected misbehaving, yet undeniably irresistible guys as well as the HBO drama has — or packed one program with so many of them. Consider vampires Russell Edgington and Franklin Mott, killer Rene Lenier and shapeshifter Tommy Mickens, just for starters.

Of course, there's also Eric Northman (Alexander Skarsgard), who takes the attractiveness of bad boys to a whole new level. At 1,100 years old (give or take a few), he's among the oldest baddies of the bunch, and given some of his past deeds, he's arguably the baddest. The easy-on-the-eyes vamp is known to get plenty of use out of his own personal dungeon, but in fairness to him, his pursuits there aren't always evil – sometimes they're sexy and evil. But there's another side to him too. Remember when he lost his memory last season and reverted to the vampire equivalent of a sweet little puppy? (It was cute while it lasted.) But even when he's not forced into the good-guy role, Eric has a fiercely loyal and protective and good-ish side he reserves for those he loves.
Yep, yep, yep and yep!
We love him, because he's naughty. He will do ANYTHING to get what he wants, within reason of course. He's devious and very, very sexy when he's being bad. We all feel a combination of wanting to spank him or just having sex with him! But yet…he's not all bad and he does have a good side too. It's a killer combination (no pun intended).
The fact that Eric Northman chooses to wear clothing such as; the black tank top and leather jacket fits the image of a bad boy in and of itself, and the Viking definitely has swagger.
They mention other bad boy characters from other popular shows too, like Jaime from Game of Thrones, Dexter from Dexter, and Damon from The Vampire Diaries. If you want to find out what they said about those characters too – please click here!
What are your bad boy thoughts? Please share 'em no matter how naughty they are below!