Hey Eric & Sookie Lovers!
TV Guide was going through their Top Moments on the Week and chose – True Blood's Eric Northman's memory loss as the Best Character Shift!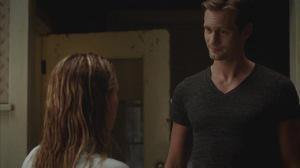 This is what they said;
Best Character Shift: Just when it looks like True Blood's Eric is going to have his way with Sookie via real estate-induced servitude, a coven of witches erase the ancient vampire's memory. Dangerous, sexy Eric is gone and he's been replaced by curious, child-like (and, it must be said, still horny) Eric. "Why do you smell so good?" he asks Sookie, when they "meet" immediately after his trauma. Here's hoping that Sookie falls for this highly entertaining version of Eric.
You can read their entire list of Top Moments of the Week

here

!
What do you think about this? Share your thoughts below!