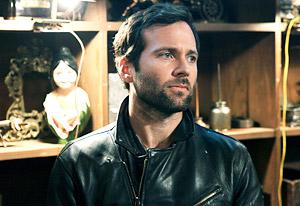 The mystery of who the Stranger is will soon be revealed on Once Upon a Time!
August W. Booth (Eion Bailey), a writer only initially known as "the Stranger," made his way to Storybrooke earlier this season. His very presence is significant since the curse prevents people in the town from leaving, and apparently Emma (Jennifer Morrison) was the only outsider to come there before him.
His arrival — especially after he added pages to Henry's fairy tale book — has sparked many debates as to who he actually is. Theories range from suggesting that he's Rumplestiltskin's son or perhaps Henry's father to even his being an older version of Henry, which would be awkward since the Stranger is seemingly attracted to Emma, Henry's mom. To get the scoop on who the Stranger is, TVGuide.com turned to writer and consulting producer Jane Espenson, who penned this upcoming Sunday's episode "The Return" (8/7c, ABC) and also offers up some juicy teases for the Season 1 finale.
There are many theories out there about the Stranger. Our best guess is that he's Pinocchio, based on the lemurs in Nepal clue — which proved he was a liar — and the sudden lockup of his (possibly wooden) leg. What can you say about the clues? Were they too obvious or are we assuming too much?
Jane Espenson: Those are definitely clues, but are they clues that we put in there so that you would later go, "Oh my God, it was Pinocchio!" or are those clues we put in there to make you think he's Pinocchio when in fact, we're planning an elaborate mislead. It's very hard to say at this moment. I've seen the theory that he's Maleficent (Kristin Bauer), which is fascinating! There's more than one way to [give a] clue.
You're going to see Rumplestiltskin (Robert Carlyle) have his own theory about who he is, which raises questions of its own. If he were Rumplestiltskin's son, wouldn't the son recognize him, for example? But wait! Memories are gone! It gets very complicated. It's a complicated mystery and we're going to go a good way's down the path towards solving it this Sunday.
Are there clues that you guys planted that fans have missed?
Espenson: I don't think so, but sometimes people see clues that we didn't intend. There's a very interesting one that you see very early on in "The Return" episode. Look to see what August's paperweight is. Keep an eye out for that.
Could he have been the young boy who found her by the side of the road?
Espenson: That's a very interesting question. We know from the newspaper headline that a 7-year-old found her on the side of the road. The age seems to work out;  It could've been him, but we've got more than one character who's about the right age for that to have been him.
What can you tell us about this Sunday's episode?
Espenson: The main drive is Rumplestiltskin trying to figure out who August is. At the same time, we're seeing events of him in fairy tale land with his son, where the son doesn't really approve of how his father is changing and is trying to make him take a different path. The cool thing is that really both of these memories exist at the same time in Mr. Gold's head; he knows that he is pursuing August and he knows he is remembering his son because, unlike many of our characters, he actually remembers his previous life in fairy tale land. You're actually going to see Mr. Gold go to Archie (Raphael Sbarge) the therapist, because he's going to be quite shaken by what he's learning. It's going to shake him up a bit.
A recent promo for upcoming episodes showed the town rallying against Regina (Lana Parrilla), who was tied to a tree, and it looked like her head was going to be taken off with a sword. What can you tell us about Storybrooke's drive to figure out who they are and finally get out from under Regina's reign?
Espenson: If this town ever figures out who they are, Regina is in trouble, and that's exactly what you saw there, is the sort of trouble that might be in Regina's future. As we head towards these last few episodes, the dominoes are going to start falling. This season finale is one of the best hours of TV I've ever seen. It blows the doors off. Garments of people's clothing are going to fly off from the sheer force of their delight and surprise at what's going to be revealed in the season finale. Nothing is held back. The next couple episodes are going to be carefully laying some groundwork for a big, big metaphorical explosion at the end of the year.
How will August help the town in that regard?
Espenson: Whoever August is, he came from outside, which is fascinating, and he's come with information. We saw him messing with Henry's book. It sure looked to me like he was adding pages to Henry's book, so I would look to Henry's book for the way that he helps the town.
What about the giant green wormhole that we also saw in an earlier version of that same promo? Where does that lead?
Espenson: Generally, portals on our show lead between lands. They lead between fairy tale land and our land, or between, as we saw, fairy tale land and Wonderland. There were a lot of doors down there, so it looks like there's a lot of different lands you can get to.
Now that we know Kathryn (Anastasia Griffith) is actually alive, how will that play out since Mary Margaret (Ginnifer Goodwin) had been accused killing her, but David (Josh Dallas) didn't stand by her side?
Espenson: Returning Kathryn solves a lot of problems for David and Mary Margaret, in that Mary Margaret is not going to be subject to capital punishment, so that helps them. Your relationship is a lot better when one of you has not been executed for crimes they didn't commit. But it doesn't solve the big problem, which is that he did not stand behind her. This curse is making David make some pretty bad choices, if you ask me. They still have a lot to overcome. I would not expect them to tie it up all neatly in a single scene. I think they're going to need a couple scenes to get through this, but I would suggest that by the end of the season, as a romantic, I like to think that true love tends to win on our show.