This might bring a smile to your Eric & Sookie lovin' face!
Over at Chacha.com they picked 15 TV Characters That Should Be Killed Off…there's one in particular, you will be happy to find out they picked! Hehehehe…
This is what they said about Queen Beehl…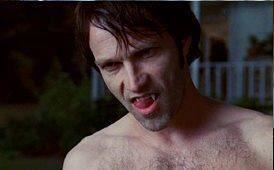 9. Bill Compton, 'True Blood'

Prior to season 4, I would've definitely chosen Tara for this spot instead. But she grew on me during the fourth season, and I'd be sad to see her go at this point. Bill, on the other hand, did get some bonus points from me for his new role as the King of Louisiana, but I'm still over him. Team Eric all the way.

Also, important note: I would love to get rid of Sookie on occasion, but she's such an integral part of the show that it's really not even worth contemplating her demise.
Those listed alongside Bill are; Cindy Brady (The Brady Bunch), Bernadette (The Big Bang Theory), Hilary (Fresh Prince of Bel Air)…plus many more! Check them out here!
Thoughts? Share 'em below!
Advertisement