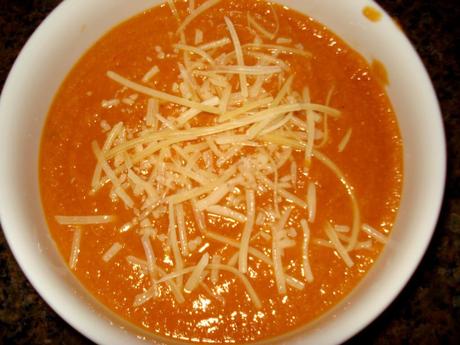 This is one of the first recipes I made when I started my blog a little over two years ago. I remember how apprehensive I was making soup from scratch from the first time, and how my husband had to be my cheerleader pushing me along.
I also remember the disasters along the way:
…Putting hot soup into a blender (filling it all the way up), not knowing that the soup expands when you turn on the blender, and having chickpea soup explode all over my kitchen – that was a funny (and also mortifying) moment.
…Using a pot that was too small for the soup to begin with, causing soup to splash all over the newly cleaned stove – that my husband had literally cleaned an hour before
…Thinking that dinner would be ready by 8pm, but after the disasters and being somewhat of an inexperienced cook, eating dinner around 9:30pm
But after all that, this recipe turned out to be amazing! The recipe was for 6 people, so even after I had lost half of it between the blender and the cooking incidents – there was more than enough for us to eat. It's actually not a hard recipe at all, just takes a bit of time to let all the ingredients simmer together.
I originally found this recipe on myrecipes.com and it has now become one of my favorite soups to make! This soup is super tasty, warming and has a great mediterranean flavor. It also packs a nutritional punch with the fiber and protein from the chickpeas, and lycopene from the tomatoes. My slightly modified version of the recipe is below. To all those new cooks out there – I encourage you to try this recipe. It might seem a little daunting at first but once you make it and it turns out to be delicious (and I promise, it will), you'll have a newfound confidence in the kitchen

The Ingredients: 
1-1.5 Tbsp  olive oil
2  cups  finely chopped onion
8  garlic cloves, minced
4  cups  water
1  teaspoon  minced fresh or 1/4 teaspoon dried rosemary
3/4  teaspoon  salt
1/4  teaspoon  black pepper
3  (15 1/2-ounce) cans chickpeas (garbanzo beans), rinsed and drained
1  (14 1/2-ounce) can diced tomatoes, undrained
2 tablespoons balsamic vinegar
6  tablespoons  (1 1/2 ounces) grated fresh Parmesan cheese
The Directions: 
Step 1: Heat the olive oil in a Dutch oven (or a large pot) over medium heat. Add onion and garlic, and cook for 10 minutes, stirring frequently. Stir in the water and the next 5 ingredients (water through tomatoes), and bring to a boil. Reduce heat, and simmer 20 minutes.
Step 2: Place 2 cups soup in a blender or food processor, and process until smooth. Pour the pureed soup into a bowl. Repeat procedure with 2 cups soup. (Note: the other alternative here is to use a hand blender – it works a lot more quickly and is a lot less messy!)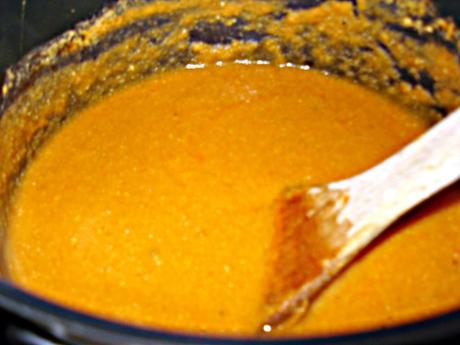 Step 3: Return all pureed soup to pan. Stir in the vinegar, and bring to a boil. Remove from heat. Spoon 1 1/2 cups soup into each of 6 bowls; sprinkle each serving with 1 tablespoon cheese.
Nutritional Info: 
Makes 6 servings – per serving
Calories: 373 (22% from fat)
Protein: 15g
Fiber: 11.4g