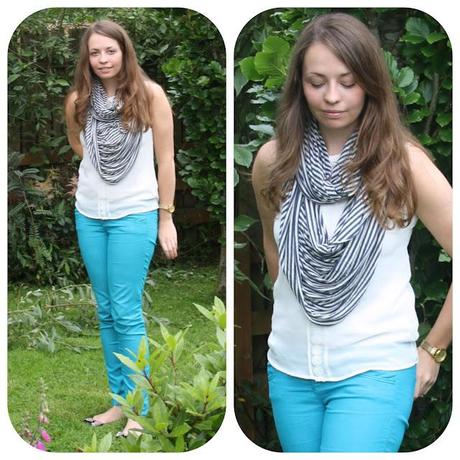 This is a set of photo's that I finally got to take after a very rainy few weeks. Is anyone else tired of living in giant raindrop land? I have a huge wardrobe of summer outfits...actually many of them are piled on top of an extra rail which I had to buy to house my clothes addiction. The rest I have to store at my parent's house. All of these reasons make photographing outfits rather difficult. Plus the fact I don't have a photographer to hand 24/7. How nice would that be? Instead I have enlisted some of my wonderful family and friends to take some photos. I was a little embarrassed at first, "Oh hey, if you aren't too busy would you mind taking a few photos of me". When I was a child, this may have been cute but as a fully grown (dare I say adult) it is a little weird at first. However, I have to say, everyone has been more than willing when I ask. Maybe I have a found a group of budding photographers! You know who you are!! 
I bought the jeans in Benetton back in late May. I love the color and it is a nice change from the usual dark blue or black jeans that I live in. They are kind of a turquoise blue color. I think they are all sold out now but they usually bring the same jeans each year. I love Benetton's quality because they really last years! You can literally wash and wash and it will keep the color intact. 
The "snood" is from Topshop. I love wearing scarves/snoods all year round but most of mine are too warm for summer. Yes even though it's raining it is still quite humid out. However, this is a very light cotton which means, it keep you nice and cool all the while acting as a nice accessory to a simple white blouse. 
My blouse is from H&M which I bought on my trip to Barcelona in April. I love H&M for it's basics and how they adapt trends from the catwalk into easy to wear clothing. 
The navy bow pumps are from Primark or Penny's (in Ireland). They are the comfiest pair of pumps I have purchased in a LONG time. And I am always in search of a comfy flat.