In my mid-teens, I loved going to London to stay with my aunt. Often, the whole family would go by car, but my favourite trips were the ones I made alone, on the train. I felt so grown up travelling InterCity from where ever we were living at the time. I would be met at Euston by my aunt, accompanied by my cousins who were young children, and we would head off to Roehampton and the large, detached house where they lived. Chatter, laughter and a bit of sibling rivalry would last for the entire car journey, until we all tumbled out on to the drive and raced for the front door. My cousins would want to hold my hands. There were three of them, so the two youngest had to hold one of my hands between them.
One of my visits took place during the Whitsuntide half-term in 1971. I have previously written about being uprooted from the familiar to the unknown when my father's job meant a move to Cheshire. This little holiday was in the middle of that, so I was not at my happiest, though being with my cheerful, extended family brought me joy. My aunt had given me one of the big bedrooms over-looking the front garden. It was bright and welcoming, decorated in pale yellow with a gray satin bedspread and matching cushions. The printed cotton sheets were a jumbled mass of giant flowers in yellow, white and gray. I had fun with my cousins but I wasn't expected to play with them all the time. The eldest was almost ten years younger than me and I wasn't entirely sure where to fit in, but my aunt had it all organised.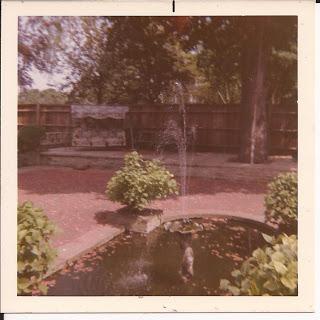 The two of us had lots of together time, chatting over a coffee at home, or going out into London. I was completely spoiled by her generosity.
We wandered around Kensington and Chelsea, where my aunt bought me a flowery, summer dress from Biba and a smock style top in cheese-cloth and lace from a tiny boutique. She refused to let me donate my spending money.
Another day, we went to a hair salon, where I expected to wait with the magazines while my aunt had her appointment, but no, the appointment was for me. This was my first ever 'cut and blow' and I was delighted with my flyaway fine hair tamed into an easy, carefree style minus a few inches of straggles. We had a night on the town planned, so wearing my Biba dress and new sandals, we went to the theater. It was a variety show with Tommy Cooper and was hilarious all the way through.
My week away was soon reaching an end and I was beginning to dread going home and returning to the school where I had no friends and no encouragement from teachers. The only thing I looked forward to was sending letters to my friends in Blackpool and sharing news of my time in London. I was about to be cheered by a welcome turn of events.
I'd spent the warm, sunny morning out in the back garden playing ball with my little cousins. After lunch, the eldest child and the middle one had been taken somewhere, the sunshine had turned to rain and I chose to have some quiet time in my room. I sat in the comfy armchair in the window, half-reading Animal Farm, for school, and watching the raindrops make perfect circles in the puddles as I twiddled with the necklace of love-beads I'd bought from Carnaby Street. The blossom covered tree branches hung low with the weight of water. Occasionally, I had another look at the essay I'd started to write, dismiss it and return to the book.
My aunt, with a sleepy looking toddler on her hip, came in smiling.
"There's good news that I think you should hear right away." She said. "Your dad wanted to surprise you, but he's happy for me to tell you. You're all moving back to Blackpool more or less immediately. He'll phone after six to speak to you and tell you more."
I burst into an emotional mix of tears and laughter. From feeling so miserable, I was the happiest girl ever.  
A Haiku
A turn of events Brought tears and laughter to me.
Emotional times.
  Thanks for reading, Pam x
Email This
BlogThis!
Share to Twitter
Share to Facebook
Reactions: