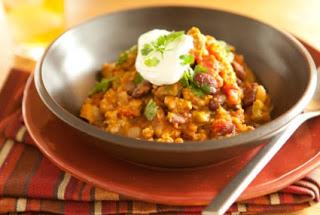 Cooking and baking with pumpkin in the Fall is something I love to do every year. I am always looking for delicious recipes to incorporate it into when I plan my meals for the week. Pumpkin is highly nutritious too since its loaded with fiber, iron, zinc, and vitamins A, C, and E. This past week I found a great recipe on the Whole Foods website for Turkey Pumpkin Chili. This is a great dinner for a cool Autumn night and healthy too. What recipes do you like that have this super food in them?
2 tablespoons extra-virgin olive oil1 small yellow onion, chopped, chopped1 green bell pepper, cored, seeded and chopped2 jalapeños, seeded and finely chopped2 cloves garlic, finely chopped1 pound ground white or dark meat turkey1 can diced tomatoes, with their liquid1 can pumpkin purée1 cup water1 tablespoon chili powder1 teaspoon ground cumin1/2 teaspoon saltGround black pepper, to taste1 can kidney beans, rinsed and drained
Method: Heat oil in a large pot over medium high heat. Add onion, bell pepper, jalapeños and garlic and cook, stirring frequently, until tender, about 5 minutes. Add turkey and cook until browned. Add tomatoes, pumpkin, water, chili powder, cumin, salt and pepper and bring to a boil. Reduce heat to medium low and add beans. Cover and simmer, stirring occasionally, for 30 minutes more. Ladle chili into bowls and serve.