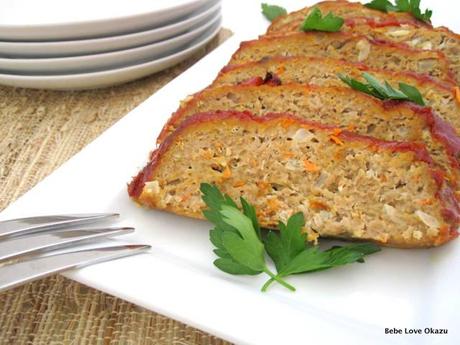 It's been SO cold here in Southern California and honestly, I haven't wanted to leave the house much. Perhaps a daytime high temperature of 55 F degrees is "mild" by Midwest and East Coast standards, but for us Los Angeleno natives, that's downright close to freezing. Call me a baby for whining about our "cold" SoCal weather, but aside from soup, chili, oven roasted foods and hot comfort dishes, I haven't wanted to cook much else.
One of the comfort dishes I've been making regularly since the weather turned close-t0-freezing (bit of an exaggeration) is my Auntie Sumiko's turkey meatloaf. I think she first made this for Christmas in 2011. We usually serve a big chunk of red meat for the holidays, but my Auntie doesn't eat red meat so she usually cooks a different turkey, chicken or fish dish each year. Well, ever since that Christmas I've been making her simple, yet delicious turkey meatloaf.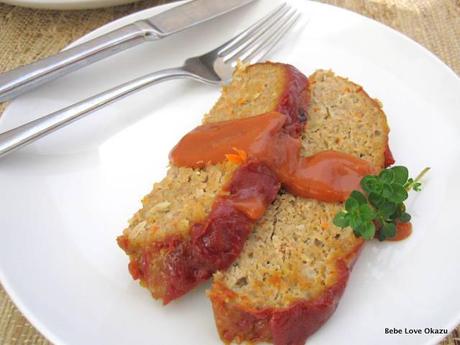 I didn't exactly grow-up with meatloaf, perhaps because it's more of a traditional American dish, and not something my first generation Japanese Mom was used to making. Yet, over the past 15 years I've tried a few different meat loaf recipes just to figure out what this comfort food was all about, but they were never that great and often not worth making again. So I never used to make it. I guess you could say I gave up on it.
Since my Auntie shared her meatloaf recipe, I've been making this regularly as part of our winter dinner repertoire. The ingredients for the meat mixture are very similar to that of my Mom's Japanese hambaagu, or hamburger, (recipe available here) and the sauce is very similar to the glaze I use for corned beef (recipe available here). So I guess you could say this meatloaf is like Japanese hambaagu with corned beef glaze. That might not sound too appealing, but this meatloaf is really good and easy to make.
The only thing I changed to my Auntie's recipe was the addition of grated carrots. My Mom often adds grated carrots to dishes such as spaghetti and other favorites, so I thought I'd give it a try in the meatloaf. It definitely adds more flavor and moisture and I'm glad I added the carrots, but it also tastes great without it, so I'll leave that up to you.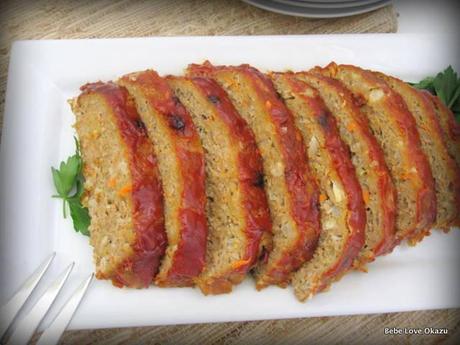 Print
Turkey Meatloaf   Ingredients
FOR MEATLOAF:
1 pound ground turkey (or ground beef if preferred)
½ large brown onion (or 1 small brown onion), finely diced (approximately 1 cup)
2 small garlic, minced
1 small carrot, grated (about ¼ cup) – optional
1 egg
½ cup panko bread crumbs
1 tablespoon low-fat milk
Salt and pepper, 2 dashes of each
Non-stick cooking oil spray
FOR GLAZE:
½ cup ketchup
¼ cup mustard
1 tablespoon brown sugar
Instructions
Preheat oven to 375 F.
In a small saucepan, make the glaze. Combine the ketchup, mustard and brown sugar. Heat the sauce until the brown sugar melts. About 5 minutes. Remove from heat and set aside.
In a large bowl combine ground turkey, egg, panko break crumbs, diced onion, minced garlic, shredded carrots, milk, and salt and pepper. Incorporate all ingredients. (I use my hands to knead the mixture.)
Line 9 x 13 baking dish with foil. Spray with non-stick cooking oil. Place the meatloaf mixture on the foil, shaping into a long flat rectangular loaf.
Spread the sauce over the meatloaf, making sure to cover the entire meatloaf generously. OPTIONAL: Reserve some of the glaze (about 3 tablespoons) to serve on the side with the meatloaf. My family seems to like having extra glaze on the side so sometimes I'll make more glaze than the recipe calls for.)
Bake in oven for 1 hour, uncovered.
Slice meatloaf and serve immediately.
3.1.09