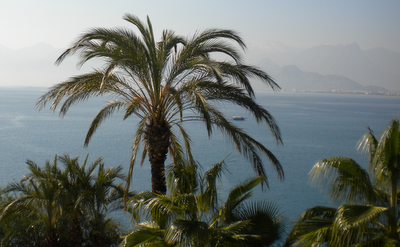 Sea view from Talya Center, Antalya
Thanksgiving has always been my favorite holiday, so I was very happy to be invited to a faux-Thanksgiving dinner on Saturday.  The young couple hosting the party are full-time English teachers, so Saturday was a better time for the party.
Sara and Steve went all out cooking.  They were unable to procure a Turkey, so they roasted a couple of chickens. Close enough. Sara also made macaroni and cheese, and Steve made  (the traditional Thanksgiving?) jambalaya. They also managed a stuffing for the chicken.
Turkish cuisine was also represented; guests brought green beens (cooked the Turkish way with olive oil, onion, garlic and tomato) and mercimek kofte (lentil balls). The next-door neighbor made some fantastic potato boregi and an orange flavored cake. She doesn't speak English, and Sara and Steve only know a few words of Turkish, but somehow they've become quite friendly.
There were lots of desserts, including an
apple
crumble and my pumpkin surprise.  The surprise was that people ate it and liked it, which I attribute to the incredible natural sweetness of the local pumpkin. ( Bal kabagi, the Turkish for pumpkin, actually means "honey squash".) I'd offered to make a pumpkin pie because it's one of the few things I know how to make, but I'd forgotten that my usual method calls for canned pumpkin, evaporated milk and a pre-made graham cracker crust, none of which are available here.
So I improvised.  I bought fresh pumpkin from the market, and the grocery had pre-made cake layers, so I used those instead of a crust.  For some reason the grocery had no cream, but did have a can of coconut milk so I used that. There was a minor setback when I realized I didn't have a can opener, but I stabbed the can with a corkscrew until I could get some of the liquid out.  I probably should have added some regular milk, because the pumpkin didn't poof up as much as it usually does.  I thought I'd balance the lack of creamyness by adding whipped cream on top, but the powdered whip cream mix I bought ended up more like a white frosting. "It's like a pumpkin trifle!" someone offered.  Yeah, that's the ticket, I was going for pumpkin trifle!
I ate so much at the party it really felt like Thanksgiving.  And to further the illusion, a video of Thursday's football game was playing on the computer.  Completing the New York verisimilitude was the bus from Konyaalti to Lara , which was so packed it felt like a rush hour subway. And the next day, there was Antalya's version of Black Friday - the Christmas Bazaar at the Talya Hotel, organized by the International Women of Antalya to raise money for local charities.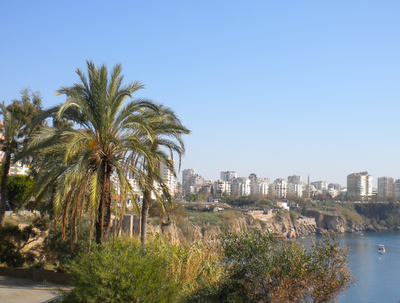 A view from the terrace of the Talya Convention Center.
And so the weekend was full of all the holiday cheer of home plus the beautiful weather and landscape of Antalya.