Antalya is famous (at least in Europe; most Americans have never heard of it) as a beach resort.  But it's also surrounded by the Taurus mountains and the ski resort Saklikent. You really can ski in the morning and swim in the sea in the afternoon - if you like cold water, that is.  By the time the water is warm enough for me to swim the snow is gone.
Last year I went for a winter drive and got some scenic photos, but this winter I made it to Tunektepe, the revolving mountain-top restaurant, and Saklikent.
Tunektepe is not far from Konyaalti, so Billy and I managed that one on the motor bike, with Ellis on Billy's lap.  Don't worry Mom, we all wore helmets.
The drive up was beautiful, as the view of Antalya got more and more distant.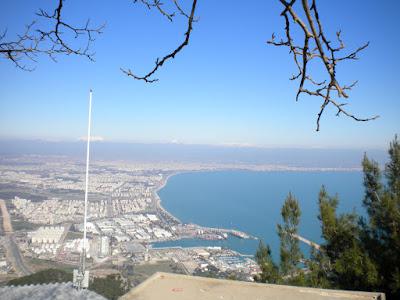 Antalya, as seen from Tunektepe
At the top of Tunektepe is Magic Mount Restaurant. Ellis had been there before, and he was excited to show me "a secret", which was that the restaurant moves. İf you sit there an hour you'll see the view from all sides.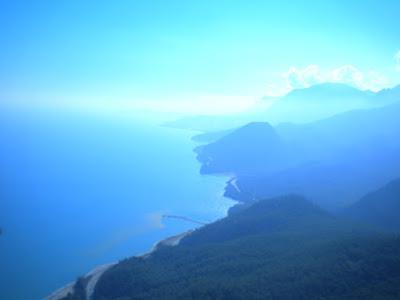 One of the views from the rotating restaurant
They serve gozleme tnere, but we'd eaten the cheese sandwiches we brought, so we just had tea. (Ellis got a Fanta as consolation for having been poked on the eye during roughhousing.)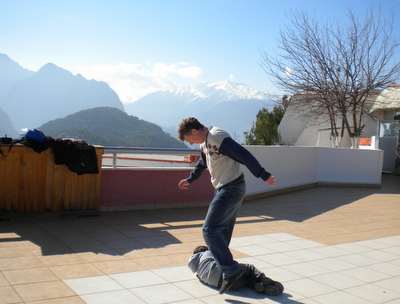 Billy, Ellis and mountains
Tunektepe and Magic Mount is a nice little trip,about half an hour from the city. For a fullday excursion with stunning views check out Saklikent, about an hour and a half away (less in season after the roads are paved). Billy and I joined Pat in taking sevinc up there for her birthday.
We had to stop on the way to get new tires, so we took the opportunity to get a couple of boreks and poaches (brealfast pastries) at the stop. The guy working there complimented my Turkish and gave Billy a funny look. Billy speaks his own version of the language - nominative nouns and verb roots in random order. Yet somehow he always makes himself understood.
Our next stop was about halfway up the mountain, at a beautiful lake.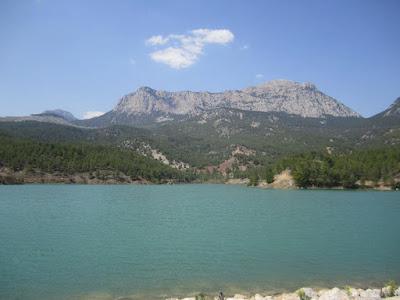 The lake on the way to Saklikent
Nearby, a group was making a bonfire and listening to Turkish music. We waved at them and they waved back. Before we knew it we were all dancing together. The invited us to stay and join their party, but we explained our goal was Saklikent.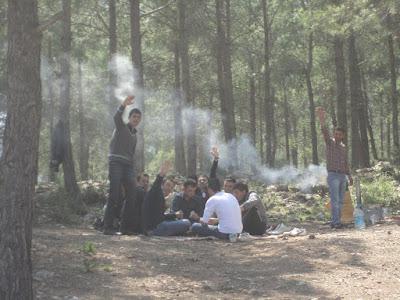 After driving through a stream and around and around the mountain, we finally arrived. It was cold! Well, that's to be expected in a ski resort, I guess. We took the ski lift (10 TL/5 euros) and got incredible views of the alp-like snow-capped mountains. In fact, there was snow everywhere, as we were now in the center of the "cap".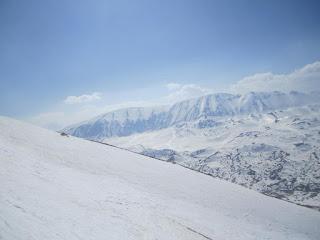 On the cap of the snow-capped mountain
On the top of the mountain there were views of white. Billy, Pat and Sevinc got into a baseball fight. I managed to avoid it by being the one holding the video camera.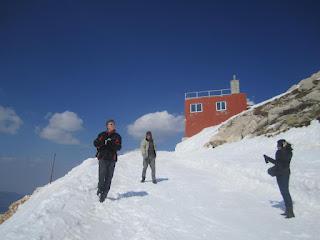 Snowball fight at the top of Saklikent
After the snowballs we went into the cafe for a cup of tea. Turns out, they didn't have any tea brewing! That was a first. They had herbal tea bags and a nescafe cappucino machine. But they did have chocolate bars, which made the nescafe go down easier.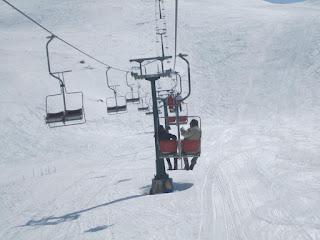 Then we went back down the ski lift, and the suitably rustic restaurant there had a more extensive menu. We had an okay lunch of spaghetti bolognese and omelettes.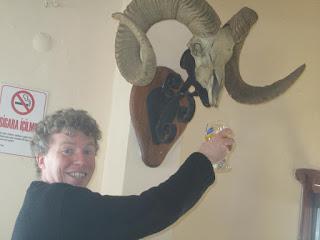 On the way back my ears kept popping, as if I were on a plane. I guess that mountain really was pretty high up.  On the way back we spotted some Lycian tombs, just like the ones we'd seen in Termessos, so Billy went and got some photos.
                                                                                                We also managed to hit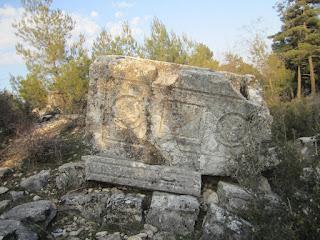 goat-herding traffic.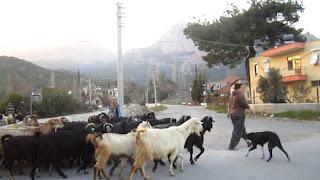 By the time we got home we were exhausted, and it was a struggle getting ourselves downtown for Sevinc's birthday party at Ayyas.
Once there, of course, we got a second wind and Billy entertained everyone with his unique dance moves.  (Check out the video at the end of this post.)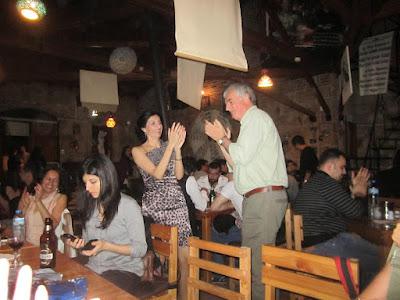 The lovely Sevinc dancing with Pat at her birthday party
After the party broke up Sevinc was going dancing with some friends and wanted us to come along, but we said goodnight and headed home.  It had been a full day.
Sevinç's Birthday Party
from
Antalya Living
on
Vimeo
.