New to little Indiana? Subscribe for free to my RSS feed. Thanks for stopping by!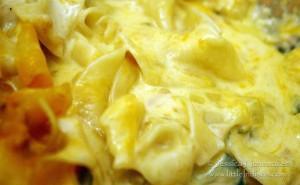 Tuna Casserole Recipe
While this Tuna Casserole recipe isn't the prettiest final product ever–comfort food never is–rest assured that it is delicious!
I think the addition of mayonnaise is what makes this so good. In our home, no one is upset when this one is served. Kid #2 often proclaims, "Mmm mmm!"
Make it tonight and see for yourself. Easy, simple, and filling, it may just become a regular in your recipe rotation too!
Tuna Casserole Recipe
Print Tuna Casserole: It's What's For Dinner
From Food.com with a few variations.
Ingredients
8 ounce Egg Noodles
1 (10 1/4 ounce) can Cream of Celery Soup
1/2 cup Mayonnaise
3/4 cup Evaporated Milk
1 cup grated Cheddar Cheese, divided
1/2 cup Celery, chopped
1/2 small Onion, minced
4 ounces Mushrooms, drained (optional)
1 teaspoon Black Pepper
1 (7 ounce) can Tuna, with Juice
Instructions
325* Oven.
Cook Egg Noodles to al dente.
Drain.
Mix together all ingredients in large casserole, reserving 1/4 cup cheese.
Sprinkle reserved cheese over the top.
Bake 30-40 minutes.
Serve hot.
Schema/Recipe SEO Data Markup by ZipList Recipe Plugin2.0
http://littleindiana.com/2012/01/tuna-casserole-its-whats-for-dinner/
Photos are the Property of little Indiana. Do Not Use Without Permission.
little Indiana: Where to Stay, Play, and Eat in Small Towns in Indiana. Discovering Indiana's best small towns! Now get little Indiana on your Kindle.
Targeted. Relevant. Affordable! little Indiana advertising.