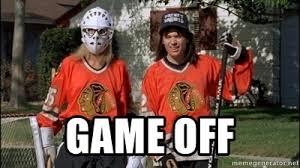 Game off!
That's all it takes to erase half of November's gains in 24 hours (the Dow Futures are off another 200 points this morning).  Volume in yesterday's down day was double the average day in November and, other than November 20th, when the Dow dropped 50 points – it was more volume than any day in November as well.  
This is not a good way to start the month – especially when loast December, the Dow dropped 4,500 points into Christmas.  So far, this is only 400 points yet most traders have already forgotten what happened last Christmas and are trading like the markets only go up and up and up – buying stocks at ridiculous multiples in hopes that someone even stupider will come along and buy it from you at a later time – but what if that time never comes?  Then you are the greater fool!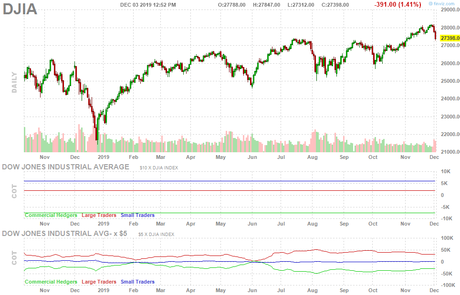 We were bored waiting for the sell-off so we initiated some small portfolios, using just a small percentage of what we cashed out with in September but, if we drop another 500 points on the Dow and fail to hold 27,000 and fail to hold 3,000 on the S&P – I think we may have to close those down already and wait until we find a proper bottom to get back in.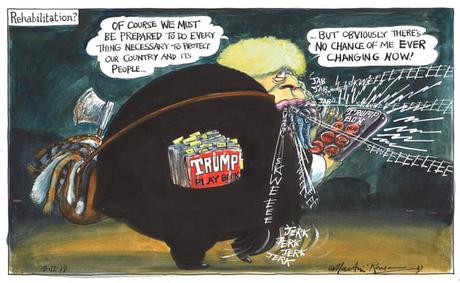 Trump is at the NATO meeting – which means he's not meeting with China or his handlers in Russia – so a mixed blessing there but there's a looming Dec 15th deadline on trade and no progress is being made and that is spooking investors.  Trump also has no friends at the NATO meeting – even Boris Johnson won't talk to him as he's facing an election and people already think he's "too Trumpy."
Trump was as Trumpy as Trump could be today, proposing 100% tariffs on $2.4Bn of French imports like cheese and wine in retaliation for France's Digital Service Tax – which is not aimed at the US but affects US companies (along with all others) but then Trump said HE should be collecting Digital Taxes – so his move didn't improve Tech at all.  
"People take advantage of American companies, if anyone is going to take advantage of our companies it's us," - Trump
Trump wasn't done though as he also said "In some ways, I like the idea of waiting until after the election for the China deal."  WTF?  Haven't they been saying for a month a deal would be signed any day?  Now it's "after the election" NEXT Novemember?!?  Clearly Trump has been lying to us (big surprise) and they were never close on any kind of deal so now he's acting like it's his idea to wait until he's done defeating the evil Democrats or whatever he imagines in his head.
What this is really about is Trump wanting to keep his tariff money slush fund – so he can dole out cash to his constituents, hoping to buy the votes he needs to make it not so obvious that Russia will have to manipulate a lot more voting machines to get him elected this time.  Meanwhile, the clock is ticking fast as Trump is scheduled to add tariffs to $160Bn more Chinese Goods on Dec 15th – really ruining Christmas for the Americans who end up paying those taxes.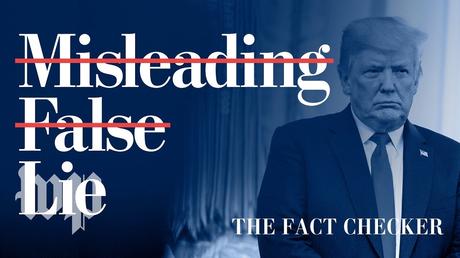 As noted in the Washington Post:  "Chinese officials have never confirmed an agreement was imminent and have said the talks remain ongoing. Trump's comments Tuesday suggest a deal could be further off than he has recently claimed."  That's something I've been telling you during this whole BS rally – you can't buy based on rumors, that's not investing – it's gambling.  Even worse, how ridiculous to buy based on rumors from a guy who has lied to us a VERIFIED 15,000 times since taking office less than 3 years ago.  That's 5,000 lies a year and we choose to believe he's making a deal with China?  Seriously?
Fortunately, we just reviewed our Portfolios last week so we can benchmark how much damage this little sell-off is doing.  We should test 2.5% pullbacks today and those will be:
Dow

28,000

(high) –

27,300

(2.5%) –

26,600

(5%) 
S&P

3,150

–

3,075

 -

3,000

Nasdaq

8,500

–

8,300

–

8,100

 
NYSE

13,600

– 13,250 –

12,900

Russell

1,650

–

1,610

–

1,570
If we lose another 2.5% line, we can expect all the indexes to hit those levels so watch the NYSE closely.  We caught a 100-point drop in the Nasdaq (/NQ) yesterday in our Live Member Chat Room at 10 am, that was good for intra-day gains of $2,000 per contract at 8,300 but we're already below 8,200 now and I said at the time:
20% line on /ES is 3,120 so we'll see if that holds up on the Big Chart and rejected right at the 30% line on /NQ (8,450) is interesting so let's consider the pullback:

So clearly we're off a run from 7,500 but there was consolidation at 8,000 so we need to run both sets but I'll save time and say the strong pullback from 8,000 – 8,500 would be 200 points and the weak pullback from 7,500 to 8,500 would be 200 points – both to 8,300 so THAT is the line we expect to be tested but, of that fails, then we've failed to support 8,000 and we look for 8,100 to hold and, if not, we have to question the validity of the whole move over 8,000 as maybe just a spike in the grand scheme of things. 
The trick is to watch what kind of bounces we get off those 2.5% lines – that will tell us if our next bets on the indexes should be bullish or bearish but I have a feeling the White House will at least try to walk back Trump's comments before the S&P (/ES) fails that 3,000 line and 1,585 has been very bounce for the Russell (/RTY) – so it's a great place for a bullish bet with tight stops below.  
At least it's an interesting week!  
Do you know someone who would benefit from this information? We can send your friend a strictly confidential, one-time email telling them about this information. Your privacy and your friend's privacy is your business... no spam!
Click here and tell a friend!