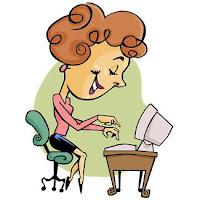 Happy Tuesday! I'm busy being domestic this week and doing some spring cleaning (in fact, it's general cleaning that's needed to be done for a long time and it just happens to be the first day of spring!)!
But today, I won't be offering you tips on how to get your dishwasher to do a better job (you can go to my Google + Page for that) or telling you how to get your toddler to use the potty without bothering to train him (you can click here for that and I'll be writing an update on my own toddler's progress later this week or early next).
No, today I'm offering up
3 quick tips for building up your blog following. I don't usually write about blogging, but as I'm always hopping (blog and otherwise), it's been on my mind.
1. Make it easy to follow you! Want more followers? I follow a lot of blogs, but if at a glance (5 seconds max), I can't find the way(s) you want me to follow you, I won't. I'm sorry, but I'm very busy (read my last post to get a feel for just how busy I am) and I'll simply move on to the next blog on the list.
2. Get rid of Captchas! Want more comments? Get rid of these irritating things! I sometimes find a blog that captivates me. I read, I comment, I read, I comment. But if that same blog has a captcha in place, that is the box that pops up where you have to try to read weirdly twisted words and then type them in before your comment will be accepted, I leave after the second comment even if I wanted to say more. Those things hurt my eyes and give me a headache! Moderate, if you must, but leave the captchas behind.
3. Leave thoughtful comments and respond to those left for you - this will give you both of number 1 and number 2... the above listed #1 & #2, not the  #1 & #2 of your children that you're dealing with all day! Though I usually follow everyone who follows my blog, especially when they've left me a comment showing that they've read what I've written, thought about it and responded to my content. When I simply get, "new follower from the hop" and nothing else I have a very hard time following back. Especially when I've poured out my heart in the post. I write because I want to share, motivate and inspire. Not just to get followers. I want readers.
There you have it! 3 quick tips! Happy Spring and happy blogging!