Okay, I can't deny it any longer. Winter is here. Or at very least, the wet, cold weather is here. And with it comes the need for sturdy winter footwear and waterproof clothing. That's where today's Tuesday Shoesday topic comes in.
I've decided to share some ideas for looking fabulous while wearing wellies because, let's face it, they aren't the most flattering, comfortable or stylish footwear options around. But they are bloomin' good at keeping your feet dry and with the addition of a chunky wellie sock and legwarmers, they can also be warm and toasty.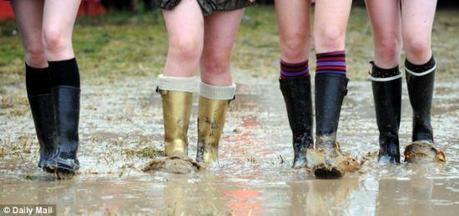 You may remember that last week I quoted from Luella Bartley's Guide to English Style about the super-cool-ness of brogues for both men and women, so I thought I'd check out what this British designer has to say about wellies:
"Gone are the days when the Green Welly brigade wore green wellies. These days equestrians and land-owning types wear brands such as Muck Boots with nylon uppers and padded lining… What you won't see them in is Nu Rave yellow or scarlet. Hunter, the manufacturer of classic tapered wellies with the much-copied side buckle, has bowed to the tyranny of fashion. First there was the Festival range featuring silver and dolphin gray. It would be foolhardy to overemphasise the Kate Moss effect – she famously wore a pair of black Hunter's with hot pants to Glastonbury in 2005 – but the company posted a massive sales increase in the wake of Kate's endorsement. I once harboured a desire to create Luellies… A welly is, after all, an integral part of the Englander's existence."
Luella Bartley, 2010, Luella's Guide to English Style, Fourth Estate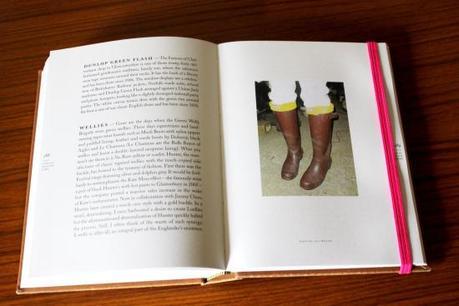 I would certainly buy a pair of Luellies - how cool does that sound?! I have had disappointing experiences with wellies in recent years, buying a really pretty floral pair from Office that turned out to be too tight and therefore limited the amount of time I could wear them without getting a massive blister on my heel. In this instance, these boots were made for walking does certainly not apply! I think that the solution to painful wellies is buying a pair one size bigger and then filling the extra space with padding in the form of chunky knitted socks, thermal tights and welly-liners like this pair my pal bought for me a couple of Christmases ago: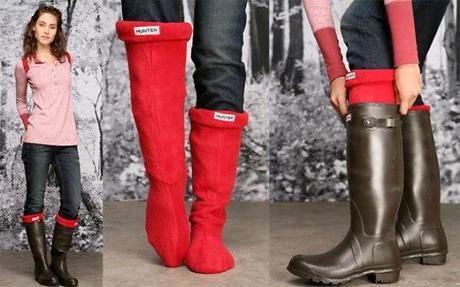 Image c/o My Hunting News
So pop out to your local Primark, Peacocks, New Look or even George at Asda or Tesco to buy some cheap fluffy socks – even a pair of those non-slip bed socks from Poundland will do – and get layering up! Your feet will be padded and snuggly inside your wellies and you'll be fine and dandy for the whole of the wet weather period. And don't forget the snow is coming too – and if you've got wellies in a size bigger, there's nothing to stop you slipping a hand-warmer down the side to keep extra toasty!