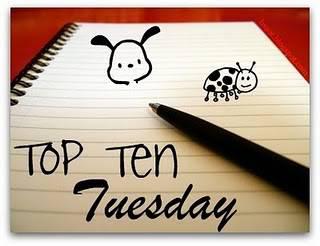 Top Ten Tuesday is an original feature/weekly meme created at The Broke and the Bookish.


May 10: Top Ten Jerks In Literature ( all those jerky guys in books..those who truly WERE asshats and those who just acted like one but could be quite loveable)

1. Eric from the Sookie Stackhouse Cronicles series- we all know he's a jerk, but we still love him <3


2. Damon from The Vampire Diaries serires. I REALLY wated to kill him a few times.

2. Lothaire from Immortals After Dark series. He kills the party EVERYTIME he shows up.


Teaser Tuesdays is a weekly bookish meme, hosted by MizB of Should Be Reading.Anyone can play along!
My Teasers:
"She rubbed both hands up and down
her arms as if she was cold. 'I knew they wouldn't have
abandoned me. I just knew it.'"

 Page 106, Storm's Heart by Rachel Lyndhurst