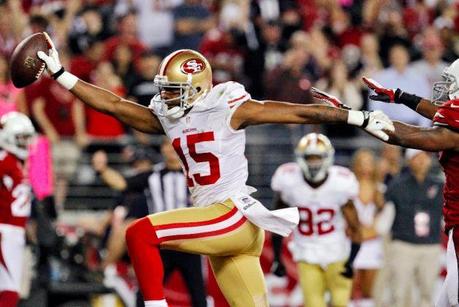 Basketball season is about to begin, and even though my attention will be on the Celtics tonight, this afternoon my heart and soul is in the NFL. The season is half over and the tiers of teams have evolved. So, my ten things tonight are going to be ten tiers of teams, almost like a pyramid. So, we'll start with the top and the best teams, and work our way down the pyramid with the quality of team going down with each level. Understand? Well, even if you don't you'll catch on. So, here are the ten tiers I think I think make up the NFL halfway through the season.
Tier 1: New York Giants, San Francisco 49ers
I think they are the favorites. It's very obvious to me that these are the best teams in the NFL. They both have dynamic defenses, good offenses, and great coaches. Now, saying that, those things are not what separates these two teams from the rest of the league. The Giants have an incredible knack for coming through when it matters most. They have an almost incomparable skill at winning when the games matter the most. Their "clutchness" and will to win big games, led by Eli Manning, who has become the best "big-game" quarterback1, are what makes them one of the top teams. The 49ers, on the other hand, are in the same boat, it's not what they do on the field that makes them a top team, but how they do it. Their desire, will, and motivation are second to none. They will go into every game and play like there is no next game, and it's their ability to impose their will2 on the opponent that makes them so special.
Tier 2: Atlanta Falcons, Green Bay Packers, Houston Texans, Chicago Bears
I think these are great teams, but something is missing. Yes, the Atlanta Falcons are 7-0, but I've been over all this before, and honestly, if the Falcons were playing the Giants or 49ers next week, who do you think would win? The Packers have finally put it together and figured out how to play without Gregg Jennings. Their beat-down of the Texans has refueled the offense and reminded them of the top team they are. They still need to make sure that the offensive and defensive line woes from earlier this year don't return. The Texans are the best team in the AFC, and I think their loss to the Packers was a speed bump. They ran into one of the league's best quarterbacks having a great game. Their offense is still better than average and their defense is one of the best, but it remains to be seen if the AFC can even challenge the NFC this year. The Chicago Bears escaped with a win against Carolina last week, and it just became more evident that they are going to go as far as Jay Cutler3 goes.
Tier 3: Baltimore Ravens, New England Patriots, Denver Broncos
I think these are division leaders with question marks. The Ravens just don't know what they have on defense: no Ray Lewis, no LaDarius Webb, and they just got Terrell Suggs back off of an achilles injury. This bye week was important and could not have come at a better time for any team. They needed this bye week to regroup and figure out their identity on defense moving forward. The offense needs to rely on Ray Rice. Joe Flacco is not a superstar, and if he throws the ball more than 40 times, the Ravens will lose. The Patriots scored 45 points on the Rams last week, big deal4. They have been uneven all year and the measuring stick games will come against the Texans and 49ers. The Broncos have to figure out their offense, as it only really works when Peyton Manning is operating out of the no-huddle. Their defense has been bad, too, and is average at best. The good news for all these teams is they are in the driver's seat in their respective divisions.
Tier 4: Miami Dolphins, Indianapolis Colts, Minnesota Vikings
I think these are young teams no one thought would be competing for a playoff spot. These teams had the 1st, 3rd 5, and 8th picks in the first round of last year's draft, and their turn-arounds have been a surprise to everybody. They all have a legitimate shot at making the playoffs this year. Even if they don't, though, the future looks bright for these teams. The Vikings are doing it the old-fashioned with a great running game and defense. Their tough schedule will make it hard for them as the season goes on. The Dolphins and Colts are both taking advantage of easy schedules and great rookie quarterback play. Their game against each other this week has playoff-spot implications. Hopefully Ryan Tannehill will be back to full health for his matchup with Andrew Luck. Rookie QB Rankings: 1. RGIII 2. Luck 3. Tannehill 4. Wilson 5. Weeden
Tier 5: Pittsburgh Steelers, Seattle Seahawks, Arizona Cardinals, San Diego Chargers
I think these teams could still make the playoffs, but need to turn it around. The Pittsburgh Steelers have the best chance at overtaking their division leader if the Ravens can't solve their problems on defense and Joe Flacco can't get back to where he was at the beginning of the season. The Chargers could still win the AFC West, but last week, they just looked like a team that has given up6. The Cardinals and Seahawks have no chance at their division, but both could step up and take a wildcard spot. The Seahawks have to be happy with the progress Russell Wilson showed last week, but their defense showed up uncharacteristically bad. The Cardinals looked awful against the 49ers, but that might just be because it was the 49ers. Their offense needs to figure it out, though. It was bad.
Tier 6: Dallas Cowboys, Philadelphia Eagles, Detroit Lions, New York Jets, Oakland Raiders
I think they just couldn't live up to the expectations. Some were bigger than others: Dallas and Philadelphia both were September-Super Bowl Champions. The Lions, Raiders, and Jets looked ready to challenge for their divisions and make the playoffs. All have fallen flat on their face. The Jets made headlines, but forgot that they actually have to play football. Mark Sanchez has regressed both of the past two seasons, but injuries have played a part in their failure as well: losing both their best offensive7 and best defensive8 players. The Eagles lacked focus and concentration all year, and haven't played a smart game of football. The Cowboys have the same problems. Maybe they both need new coaches, new environments, and new cultures next year. Oakland was everyone's sleeper pick this year in the AFC, and they just forgot to wake up.
Tier 7: Washington Redskins, Carolina Panthers, Tampa Bay Buccaneers
I think, for these teams, there's always next year. Far and away, the Carolina Panthers and Cam Newton have been my biggest disappointment of the first half of the season. I was expecting Cam to put up MVP numbers and the Panthers to challenge in a weak division. They just lacked any identity this year, and Newton needs to mature as a player, in decision-making and preparation. The Buccaneers were everybody's sleeper in the NFC, after everyone liked what they were hearing about Gregg Schiano. They came out slow, and it looks like it will be too late for them to make any movement in the deep NFC. The Redskins and their fans have a lot to look forward to in seasons to come. If RGIII can stay healthy, his only question mark, the Redskins will be relevant in Washington for the next decade. You can't put a price tag on that.
Tier 8: Cincinnati Bengals, St. Louis Rams, New Orleans Saints
I think there's something there, just hard to see right now. These teams have had some bad luck: tough divisions, suspensions, plain-old bad luck. There is cause for concern, but there is also cause for hope. The foundation is there for these teams. The Rams have boatloads of picks coming in from the Redskins for trading the 2nd pick (RGIII) and Jeff Fischer is a proven coach. The talent and youth are there (Chris Long, Sam Bradford, and Courtland Finnegan), just needs a little more time in the oven. Cincinnati made the playoffs last year and suffered a tough schedule because of it, but the foundation is there with Andy Dalton and AJ Green. Next year will be their make-or-break year. The New Orleans Saints had a lost year. Their offense can still be elite, but their defense needs work. Getting their head coach back next year will help. They just need to come in next season ready to prove people wrong: they aren't dead, just got knocked out.
Tier 9: Tennessee Titans, Buffalo Bills, Cleveland Browns
I think there is the slightest fragment of hope…in the future. Poor, Buffalo. This was supposed to be their year. To be irrelevant is something I have never known in football9 and it must suck. Their defense hasn't even looked good. They spent all the money to try and make a splash, to garner attention, to win. Hopefully the defense and the key parts can turn it around next year. Cleveland has some…good players. Trent Richardson is a stud and their offensive line is good. They could do something with the right coaching, but they are a couple years away. Tennessee has some playmakers on offense, if Chris Johnson could ever turn it around he could help, too. The main thing with all three of these teams is that they don't have a quarterback that can lead them to the playoffs. No one who is there is the answer either. They need to invest their high draft picks in QBs this year. Then, they can start building for the future.
Tier 10: Kansas City Chiefs, Jacksonville Jaguars
Hey, did you know they want to put a team in London?
I think this week my picks were good not great.
This Week: 9-5
Overall: 62-41
I think these are my Top Ten Teams:
Giants
49ers
Falcons
Bears
Texans
Packers
Patriots
Ravens
Broncos
Vikings
I'm sorry Tom! Forgive me! Excuse me while I go cry myself to sleep watching my VHS recording of Super Bowl 36.
Last night, the Cardinals were demoralized. I felt bad for them.
In Bears' wins: Jay Cutler 8 TDs, 5 INTs, 61% completion percentage. In Bears' loss: Jay Cutler 1 TD, 4 INTs, 41% completion percentage.
Honestly, if you were impressed with blowing out the Rams, you need to take a better look at the Rams.
The Vikings then tricked the Browns into trading up one pick to take a player they weren't taking no matter what. Sucks to suck, Browns.
When you can't score a TD against the Browns, you know your team sucks. Sucks to suck, Browns.
Let me rephrase that, second-best offensive player. TEBOW!!!
Let me rephrase that, second-best defensive player. TEBOW!!!
One day karma will come back to get me. I experienced being irrelevant in baseball with the Red Sox this year, but at least we were entertained with all the stories coming out of the clubhouse and wondering who the owners would frame with a bogus drug addiction in the offseason. More importantly, what drug? My money is on crystal meth.