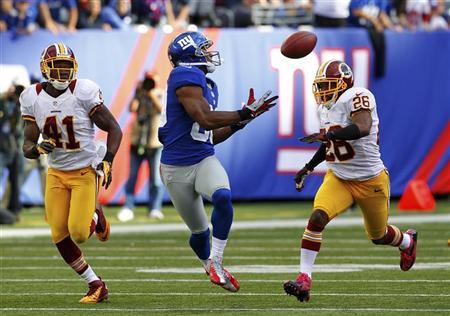 Football is like the waves of the ocean. Momentum carries so much power, that if things start going in one direction, it's hard to change directions and get out of it. Plenty of streaks look to have started in Week 7 as the season is almost about to hit its midpoint. So, here are the ten things I think I think for Week 7 in the NFL.
I think that the Houston Texans are the best team in the AFC. I don't know what that means yet, though. The NFC has been the superior conference so far If any of 4 or 5 teams from the NFC played the Texans next week, I wouldn't be surprised if they won. That this includes, but is not limited to: Falcons, Giants, 49ers, Vikings, and the Bears. I think any of those teams could beat the Texans and I wouldn't be surprised. That's not even counting the Packers, Seahawks, or Cardinals. I think the NFC is so deep that whichever team comes out and makes the Super Bowl is going to be hardened by one of the toughest playoff stretches ever.
I think that the Giants and Packers are both primed for a winning streak. They are both top teams that people had written off, and then they come and beat the Texans and 49ers in blowouts. Now they look like the two teams that have won the last two Super Bowls. They both have two weaknesses. The Giants can be the best team in the NFL, and they can be the worst team in the NFL. It's up to the Giants really. The Packers have no running game, and their secondary is bad, especially with the loss of Charles Woodson with a broken collarbone. These are two teams that don't have to win their division or get first-round byes to win Super Bowls. They have both proved that. These are two teams that you and your favorite team shouldn't sleep on.
I think that Browns fans can sleep easy knowing that the Chiefs now the worst team in the NFL. There fans are embarrassed, it got so bad they were cheering for Brady Quinn to be their quarterback. It's bad. I have been spoiled as a Patriots fan. I was listening to Felger & Mazz on 98.5 and they were talking down the team being 4-3 and were criticizing a win. I was with them, and then I think about the Browns and Chiefs, and I'm like, these are good problems.
I think that since we are talking about the Patriots, I can't help myself. They are 4-3, and they haven't played a full game yet. Meaning they haven't played four full quarters of their best football. Their division is mediocre and they are guaranteed to win that, but what else can we guarantee? I don't know how confident I am about them winning a playoff game. I don't know. I don't know how good they really are. Consistency use to be one of their hallmarks, but now, you don't know which team will show up any given quarter. Not even that, you don't know what offense, defense, or special teams unit will show up for any given quarter. There is a lot of season left, but they need to find an identity and some consistency. They need to be able to go into a game and know they have something to fall back on.
I think that RGIII is running away with the offensive rookie of the year. He has surprised everyone because out of him and Andrew Luck, he was thought to be the less NFL ready. He has taken the league by storm and has a better completion percentage than every other quarterback. Better than Tom Brady, Aaron Rodgers, Peyton Manning, Matt Ryan, Eli Manning, everyone. Andrew Luck is still good, Tannehill was good again, Brandon Weeden was even good. The only one who wasn't was Russell Wilson, but he was playing against the 49ers so we won't hold it against him. The interesting thing here is that if Tannehill keeps it up, he might pass Luck. Rookie QB Rankings: 1. RGIII 2. Luck 3. Tannehill 4. Wilson 5. Weeden
I think the Bears are one of the top teams in the league. Besides their ugly game against the Packers, they have looked like the best team in the league. The thing that it reveled, though, is their weak link. Jay Cutler is a rich man's Tony Romo. He will wow you with great throws, but his decision making isn't the best. Now, he doesn't have as many gaffes as Romo, but he needs to be at his best for the Bears to win. If he is great, the Bears are unbeatable.
I think that the Vikings have been one of the best teams this year, but there last 5 out of six games are Packers, Bears, Texans, Bears, and Packers. That is a potential 5 losses to finish the year. They could be 7-3 going into the home stretch and not finish better than 8-8. That's how tough the NFC, and especially the NFC North, is this year.
 I think that there are ten teams fighting for six playoff spots in the NFC. The Giants, 49ers, Cowboys, Eagles, Falcons, Seahawks, Cardinals, Bears, Packers, and Vikings are all .500 or better. I think you can eliminate the Eagles and Cowboys. So, that means eight teams are there for six spots. I think the Giants, Falcons, and 49ers are the only sure things. So, that leaves five teams for three spots. The Vikings have that tough schedule late, and I have the feeling they will be on the outside looking in. Four teams for three spots. Someone has to win the NFC North, and the Bears look like they can do that. That leaves the Packers, Cardinals, and Seahawks for two spots. I think the Packers are in because of their significant advantage at quarterback. That leaves the Cardinals and Seahawks. Two tough defenses protecting two mediocre offenses. I think the Seahawks will outlast the Cardinals. Playoff teams for the NFC: Falcons, Giants, 49ers, Bears, Packers, and Seahawks.
I think the AFC playoff picture is a little easier to figure out. The Texans are in. The Ravens are in. The Patriots are in. The Broncos are in. The Chargers are in. That's all off the top of my head. So, that leaves one team. It comes down to Pittsburgh, Miami, and the Colts. Now, the obvious choice would be Pittsburgh. Looking at their schedules I have the Steelers finishing 8-8. The Colts and Dolphins both 8-7. What game am I leaving out? Week 9, Dolphins @ Colts. Keep your eye on that game to see who will be the last AFC playoff team.
I think that the Falcons first loss might not come until Week 15 versus the Giants. Their schedule is illegally easy. They have the easiest division and play the NFC East and AFC West with the Lions and Cardinals as their extra games. This schedule is so easy. They are going to have home-field advantage which will make it all the better when the 49ers or Packers beat them in their first playoff game.
I think that I start 0-2 on my picks. The Thursday Night game, and then I was still sick I forgot the Bills and Titans game. So, yeah, I sucked this week.
This Week: 8-5
Overall: 53-36
Who I Think the Top 10 Teams are:
Falcons
Giants
Bears
49ers
Texans
Packers
Ravens
Vikings
Seahawks
Patriots1
That's all from Week 7. Tune in for my picks on Thursday. I won't let you down again. Keep reading!
Damn straight the Patriots are back in the Top 10. I do what I want!