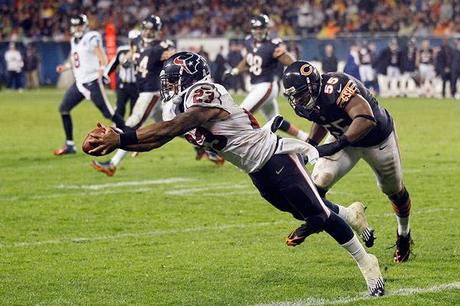 The NFL is coming down the home stretch. Teams are losing players left and right. Concussions, injuries, key losses, and close calls are all taking its toll on every team. Teams are fighting to keep their head above water, and these last six weeks are going to separate the contenders and the pretenders. Here are the eleven things (BONUS!) I think I think about the NFL in Week 10.
I think if you are complaining about the 49ers-Rams tie, and think that they should play until there is a winner then you are a hypocrite. I listen to Felger & Mazz every afternoon I can. They're on 98.5 and are full of Boston homerism like me. I'm not the type of person to call into these types of radio shows, but I almost did on Monday. They were saying how you have to play until there is an outcome. The game can't end in a tie. Multiple overtimes, blah, blah, blah. Yes, I agree that a tie sucks. Obviously, I agree with them if it was a playoff game, but how in your right mind can you argue against an 18-game schedule, argue for player safety, say Roger Goodell is out of control with having a Thursday Night Football game every week, and then come on and say that the players need to keep playing until someone wins. Imagine if that 49ers-Rams game had gone into a second OT. They had already played 75 minutes of an NFL game, 15 more than the usual hour hard contact games. Then, you want them to go out and play a potential 90 minutes of football. If not more! That's just stupid. You can't argue against an 18-game schedule and be for lengthening the OT rules in football. Imagine if the Patriots-Bills game had gone into double OT. Then Buffalo has to turn around and have a game with only 3 days to rest, prep, and practice. Don't make me laugh. I know, there have been only three games in the past ten years would have gone into a double overtime, but just having that as an option should be illegal. The game is dangerous enough. For now, having a tie is the only option1.
I think that the real refs honeymoon period is over and it's okay for me to rip into them a little. During that same 49ers-Rams game more than a minute ran off the clock while taking a measurement because no one was paying attention. Then the refs went back to take a look and adjust the clock, only to decide that it was fine. First of all, you have how many officials on the field2? How can not one person notice that the clock was still running? Second, after taking a look at it, how can you decide that losing a minute of game time is okay and not fix the clock? Third, measuring with the chains for first down is stupid. It's from a time before computers, and extremely inaccurate. With all the computers, there has to be a way to just put a chip in the ball and use computers to determine first downs. Overall, just not excuse for losing a minute of a game, which also just happened to end in a tie. So, yeah, that minute was kind of important.
I think that concussions also had a bad week this week. Seeing the hit on Michael Vick wasn't that bad3. The hits on Jay Cutler, Fred Jackson, and Alex Smith on the other hand were hard to watch. They just got drill. Cutler was airborne and the guy launched up and hit him right in the head. Jackson got drilled by a Brandon Spikes shoulder to the temple, and Smith got the same treatment, falling down into a heap. They happen so fast that you can only blame the defenders a little, but these are the type of hits that are forcing rules to be changed and the game to become diluted. The watering down of padded practice has not helped player safety, but caused for bad technique that is making the game ugly with illegal hits and missed tackles.
I think that Andrew Luck was in prime position to take pole position from RGIII in the rookie QB rankings, but put up a dud against a bad Jacksonville team.  Coming off a rookie record 433 passing yards, Luck could only manage. Yes, he completed almost 70% of his passes, but none were really down the field, and he couldn't take advantage of a bad Jaguars defense. Managing 0 TDs, 1 INT, and only 227 yards. That wasn't enough to unseat RGIII during his bye week. Ryan Tannehill's stinker and Russell Wilson's great game at home have caused those two to flip flop, and Weeden looks to be adding on a porch on his permanent residency in 5th. Rookie Quarterback Rankings: 1. RGIII 2. Luck 3. Wilson 4. Tannehill 5. Weeden
I think that the Buccaneers are going to come close into sneaking into the playoffs. I didn't pick them to when I did my playoff predictions a couple weeks back, but I do think that they are a team with a lot of momentum. Josh Freeman is quietly having a great year, and Doug Martin is known to everyone now. Their schedule going forward is heavy with division foes, and if they can win those games they could very well sneak into the playoffs.
I think that Patriot fans can look forward to next week, and the divisional round of the playoffs, but after that I don't know. The Patriots very rarely play two bad games in a row. This means they will come out strong against the Colts. Aqib Talib will only help on defense so that will be better. How much better? I don't know. As for the playoffs. They will win their division and beat up on some weak AFC team in their first playoff game. After that, we'll see how they play the Texans and 49ers in the weeks to come.
I think the Atlanta Falcons are who I thought they were! They are a great team at home, but they are a different team on the road. For them, more than any other team4, home-field advantage is so important. If they can lock that up in the NFC, they will be so much better for it.
I think the Andy Reid era in Philadelphia is slowly coming to an end. I think Reid as a GM is very good5, but as a coach he is bad6. The end is near, but Reid will get another chance. I don't think he wants it to be in another city, but unfortunately I think it will be. Michael Vick on the other hand, I don't think he has much left in the tank. His was one of the most polarizing careers. You either thought he was an All-Pro or you thought he was just a running back who couldn't throw. He was one of the greatest athletes to ever play. Does that mean he was one of the greatest quarterbacks to ever play? I don't think it does, but I'm sure others will argue with me.
I think the Texans showed that the AFC can stand up against the NFC, at least one time. The game was different after Cutler got knocked out, but if your favorite team plays in the AFC you should be encourage. Except for the whole part that…
I think the Texans are now the best team in football. The 49ers looked bad. The Giants looked worse. I don't think the Falcons are that good. The Patriots make Ryan Fitzpatrick look good. The Ravens defense is a question mark. I'm not giving up on the 49ers and Giants, though. The 49ers should have won. They fell for two fake punts, and their quarterback got knocked out. The Giants do this dance every year, I'm not falling for again. They will be a team to beat in the playoffs.
I think, "Coming down the home stretch, it's the Chiefs and Jaguars in the lead for the number one pick!"
I think my picks this week look pretty bad, but instead of being 8-6, I'm counting the tie as a tie for me too. So, my picks are bad. Just not that bad.
This week: 8-5-1
Overall: 79-51-1
Who I think the Top 10 Teams are:
Texans
Falcons
Bears
Packers
49ers
Giants
Patriots
Ravens
Colts
Broncos
I think that's all for Week 10. Look for my picks on Thursday.
Secretly, I can't wait for the first Double-OT Super Bowl.
No, seriously, how many are there?
Plus, Mr. Glass from Unbreakable is Michael Vick's father.
Besides the Seahawks, but they aren't even close to home-field advantage in the playoffs.
If you think the GM's job is to acquire players and draft. I don't consider putting a coaching staff together the GM's job.
So, basically Andy Reid is the opposite of Bill Belichick.