Fashion is something I've always loved, but never really challenged myself with. As I'm getting older and feeling a bit more confident, I've definitely found myself feeling a bit more adventurous, which is why today, I'm trying something new.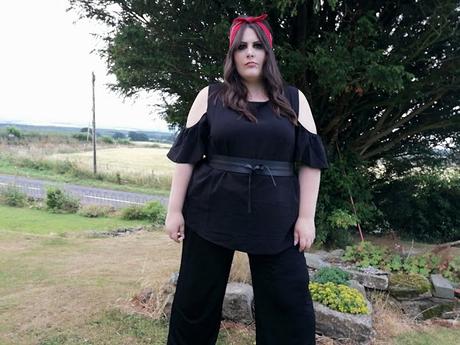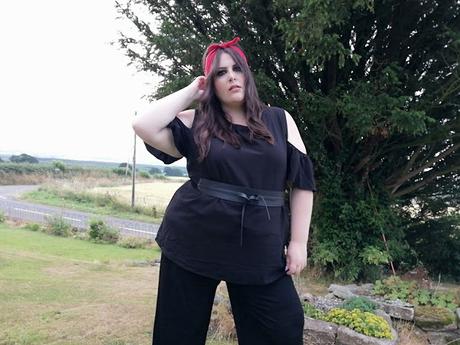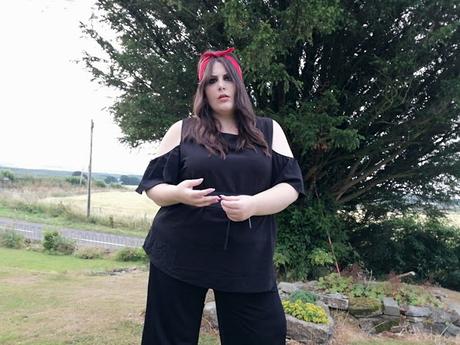 When it comes to buying clothes, I usually stick to Black, Grey or Navy Blue. I always cover the top part of my arms (Hides the flamingo wings.. I call them flamingo wings instead of chicken, let's be honest, a Flamingo is prettier..), I usually opt for leggings or high waisted jeggings, full length skirts/maxi's (cankles are not my friend) and something that pulls in at the waist. In other words, I'm a scaredy cat who knows exactly what I want and rarely push my boundaries.
With that said, I've been losing weight (34lbs!) and am starting to feel a bit more confident about myself, which is why I decided to get a 'break the rules' jumpsuit a few weeks ago. It went down a treat amongst you lovely lot and at home too. With my new found confidence, I decided to try another new style. This time, I'm 'rocking' wide legged trousers, an Obi style belt, cold shoulder top and.. A BANDANA.
The catch is that everything, with the exception of the bandana, is black, but the styles are definitely outwith my 'rules'.
Everything is from the Boohoo Curve collection and is available in sizes 16-24.
My friends and family were loving the look, with many commenting that the 70's look is a good look on me. I've bought about five different Bandana's since and no longer feel 'weird' wearing one which is a bonus.
The top I'm wearing is no longer in stock! but I found
this one on Boohoo
which is perfect at £15 and is available in both Black & Burgundy (sizes 16-24).
I gathered this in at the waist using this
Wrap PU Obi Belt
which costs £6.
The 'Plus Woven Wide Leg Trousers' cost £20 and are available in Black, Grey & Amber.
Finally, the bandana I am wearing is unavailable (*sob*), but worry not, I've found this one, which is available in Black, Lilac, Orange & Lemon. It costs just £4 and I've got my eye on the lilac one!
So what do you think? Should I be more open to trying something new Fashion wise?
H x
*Post contains Affiliate links. This doesn't affect your shopping experience and all opinions are my own.