Happy Halloween!
I thought that since everyone is in the Halloween spirit today that I would share with you our church's annual Trunk or Treat festival.
Last year, Mr. A and I decorated a trunk and then dressed up in old Halloween costumes.  This year I thought we would step up our game by creating a theme with our costumes and our trunk.
With so many young girls in our congregation, I thought that the best theme would be a fairy tale one.  Since my hair coloring really only works with one princess, we settled on Cinderella.
I decided to make a pumpkin carriage for our trunk decoration and then make a prince charming costume for Mr. A and a Cinderella costume for me. At the last minute, we had to move everything inside because of the rain but it still turned out fabulously.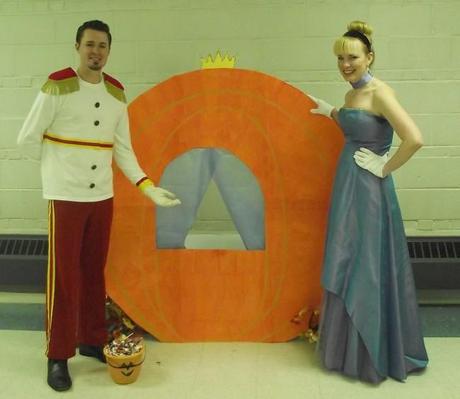 Here we are posing with our trunk.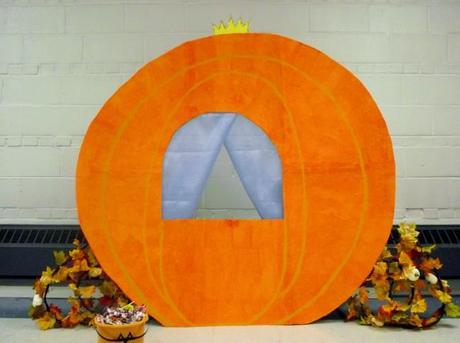 I made the pumpkin carriage by taping together several foam boards and then painting them with orange craft paint.  Then I used some mod podge and orange tissue paper to decoupage the pumpkin.  This hid the seams and gave the pumpkin a more life like texture.  Once the mod podge dried, I used a dark orange paint to paint on the concentric circles and the door.  Then I hung up some blue fabric behind the pumpkin and created wheels out of floral vines.  All in all it was quite a task to create but I think it turned out pretty well.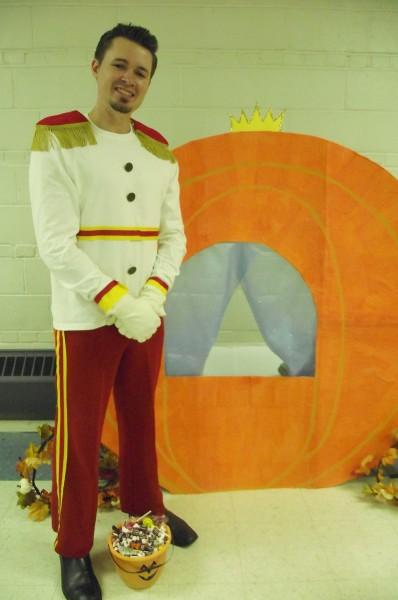 Mr. A's costume was semi handmade.  We purchased red pants at Salvation Army and a plain white long sleeved shirt at Target.  Then I sewed on the yellow and red ribbon on the sides of the pants.  For the shirt, I created two caplets out of red fabric and then glued the fringe on the sides. The belt and the cuff on the shirt are made from the same ribbon as embellishment on the pants. To top the shirt off, I sewed on some buttons from Joann's and added white gloves from an army surplus store and then voila.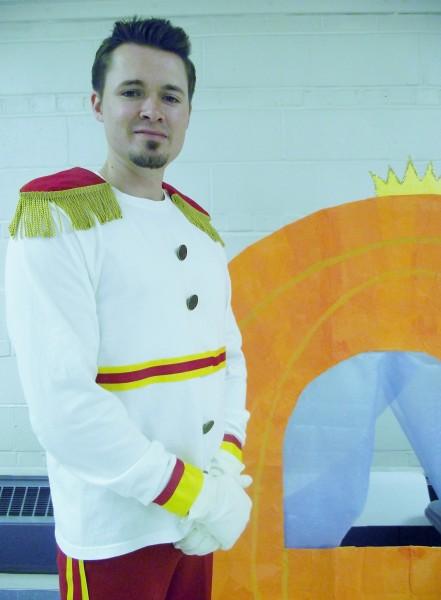 Perfect prince charming.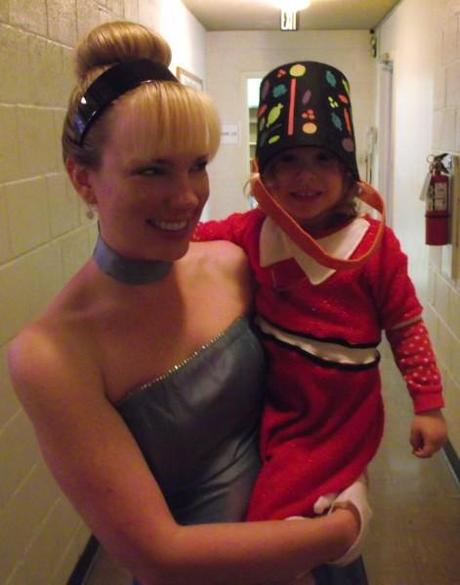 For my costume, I used my old junior prom dress (which was too big so I had to wear pants underneath it to keep the dress up).  I put my hair into a sock bun and used an old black headband and earrings.  Then I made a choker out of blue ribbon and added on some white gloves.  Easiest Halloween costume ever.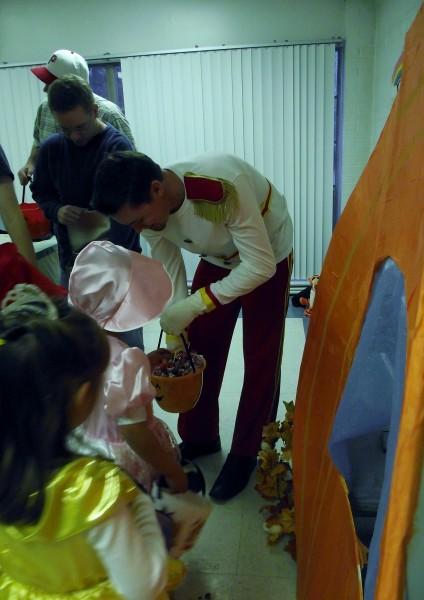 Once we had our costumes and decorations set up, the kids came through to trick or treat.  It was so adorable to watch the kiddos interacting with Mr. A.  They totally loved him.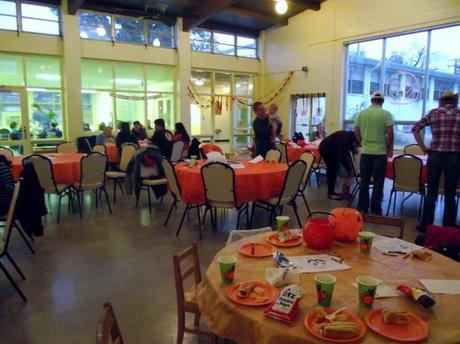 When the kids were done trick or treating, they went to our main fellowship halls for food and more games.  We even had Charlie Brown and the Great Pumpkin playing.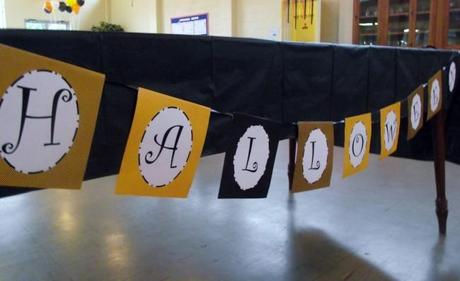 The event was a huge success with over twice as many trunk decorations and trick or treaters as last year.
Seeing the kids all dressed up and having a great time was the perfect way to spend our Halloween.  But my favorite part of the night was when a group of girls asked if they could take another picture with Cinderella before they left for the night.  My heart seriously melted. Glad I could put my old prom dress to good use

What did you do to celebrate Halloween?