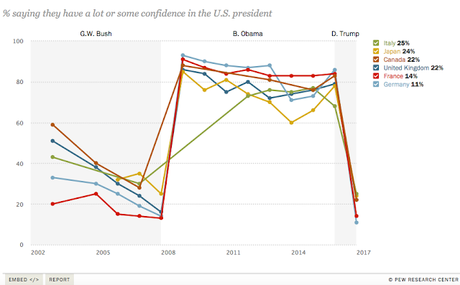 Donald Trump seems to have declared war on our best allies. While embracing dictators such as Vladimir Putin, Recep Erdogan, and Kim Jong-Un, he has tried to bully and threaten allies like France, Canada, United Kingdom, Germany, Japan, and Italy. He has put a tariff on their steel and aluminum, and threatened to apply other tariffs if they retaliate. And his bullying tactics at the recent G-7 meeting has just driven them further away -- and made them question whether the U.S. can be trusted with Trump as president.
The chart above shows what the people of those six nations thought of U.S. leadership before the G-7 meeting. Note that all of those nations had a very high opinion of Barack Obama as president. But their opinion of Trump is very low. The percentage saying they have at least some confidence in U.S. leadership under Trump is only 25% or lower in all six countries -- France (14%), Canada (22%), United Kingdom (22%), Germany (11%), Japan (24%), and Italy (25%).
Those are terrible numbers, and Trump's atrocious performance at the G-7 meeting is not going to improve them. I expect it will have the opposite effect -- making these leaders (who stood up to Trump) stronger among their own citizens, and giving them the support they need to fight Trump's ridiculous trade war.
The G-7 meeting just proved once again that Trump's foreign policy moves have been a disaster -- and have seriously damaged the reputation of the United States.
The chart above is from the Pew Research Center.