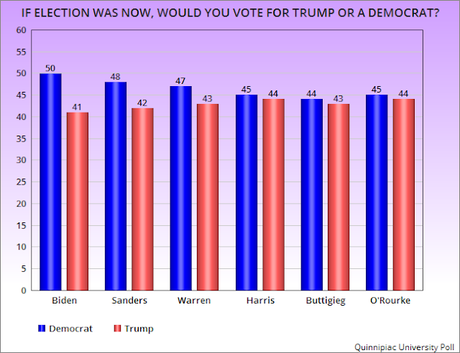 This chart reflects the results of a new Quinnipiac University Poll of Florida voters. They questioned 1,279 Florida voters between June 12th and 17th, and the poll has a margin of error of 3.3 points. The poll had 417 Democrats with a margin of error of 5.8 points.
The poll asked Florida voters who they would vote for -- Trump or a specific Democrat (one of the six leading Democrats). Trump finished behind all six. Joe Biden had a 9 point advantage, Bernie Sanders had a 6 point advantage, and Elizabeth Warren had a 4 point advantage. All of those exceeded the margin of error.
Three other Democrats (Kamala Harris, Pete Buttigieg, and Beto O'Rourke) had a 1 point advantage over Trump. That is within the margin of error and statistically a tie.
Below is the chart showing who Florida Democrats support for the nomination of their party. Only candidates receiving at least 1% support were included in the chart.