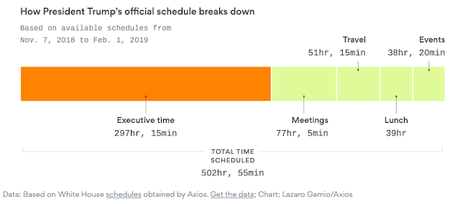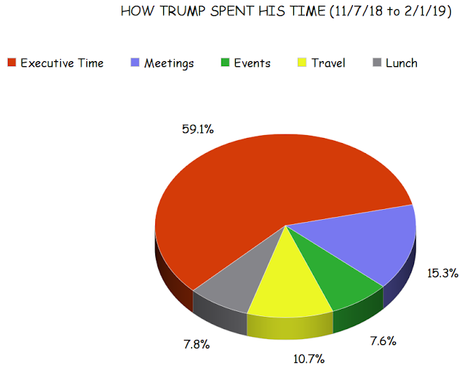 The folks over at Axios.com got hold of Donald Trump's official schedule between November 7th of 2018 and February 1st of 2019. The schedule was leaked by a White House insider. The results were shocking at the very least.
The top chart shows the activities and the actual amount of time doing each. The bottom chart shows the percentage of time for each activity.
Trump spent 15.3% of his time in meetings, 7.6% at events, 10.7% traveling, and 7.8% at lunch. But the largest block of time (59.1%) was spent in "executive time". "Executive time" is Trump-speak for his down-time -- the time he spends alone (watching TV, tweeting, and calling Fox News and other supporters to whine about how he is being covered in the media).
To be blunt, Donald Trump is our laziest president. Maybe that's a good thing. Considering his utter and complete incompetence at doing his job, it's probably to the country's advantage that Trump spends so little time doing his job.