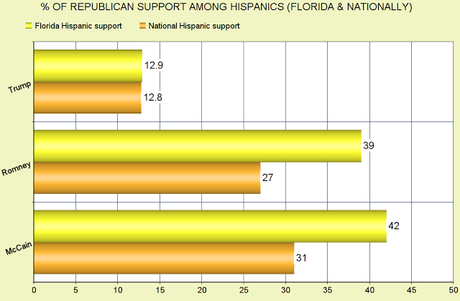 Donald Trump continues to claim he will do well with Hispanics in the coming election. If he really believes this (which I doubt), then he is living in a dream world. The truth is that, as the New Latino Voice Poll shows, Trump is doing very poorly among Hispanic voters -- much worse than any Republican has done in recent elections.
This is important in Florida -- a state that Trump must carry to have any chance of winning the presidency. Hispanics make up 18% of Florida voters, and have a big impact on that state's elections. Normally, Republicans do a little better in Florida among Hispanics than they do nationally because a large segment of the Florida Hispanic vote is Cuban (and they traditionally vote for the GOP). But this year is different.
This year, Florida Hispanics are as anti-Trump as Hispanics nationwide. Only 12.9% of Florida Hispanics support Trump. That's much worse than the 39% that Romney got in 2012, or the 42% that McCain got in 2008.
And it looks just as bad nationally. In 2008, McCain got 31% of the national Hispanic vote, while Romney got 27% in 2012 -- and both of them lost. Trump is only getting 12.8%. That should worry Republicans, since the votes cast by Hispanics (as a percentage of the total votes) is almost sure to be higher than in any past election.