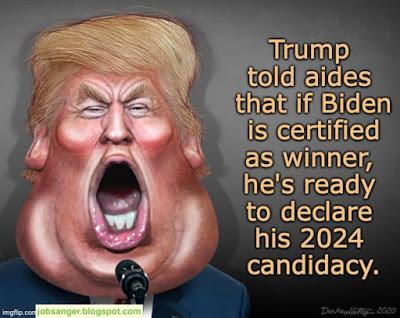 Donald Trump continues to refuse to concede the 2020 election. He's claiming fraud, asking for recounts, filing lawsuits, and tweeting. 
His followers believe he has a plan to achieve victory, and cable news is pondering what he's trying to achieve. But the truth is that he really has no plan.
He's just upset at losing, and flopping around like a fish out of water. He lying constantly, and upset that those lies are not succeeding.
And realizing that he may have lost, he is ready to announce he will run in 2024. All of this is just to soothe his narcissistic personality. Concede or not, the election is over, and Joe Biden will become the 46th president on January 20th.
Here is some of what Maggie Haberman says about Trump's futile efforts in The New York Times:
At a meeting on Wednesday at the White House, President Trump had something he wanted to discuss with his advisers, many of whom have told him his chances of succeeding at changing the results of the 2020 election are thin as a reed.
He then proceeded to press them on whether Republican legislatures could pick pro-Trump electors in a handful of key states and deliver him the electoral votes he needs to change the math and give him a second term, according to people briefed on the discussion.
It was not a detailed conversation, or really a serious one, the people briefed on it said. Nor was it reflective of any obsessive desire of Mr. Trump's to remain in the White House.
"He knows it's over," one adviser said. But instead of conceding, they said, he is floating one improbable scenario after another for staying in office while he contemplates his uncertain post-presidency future.
There is no grand strategy at play, according to interviews with a half-dozen advisers and people close to the president. Mr. Trump is simply trying to survive from one news cycle to the next, seeing how far he can push his case against his defeat and ensure the continued support of his Republican base.
By dominating the story of his exit from the White House, he hopes to keep his millions of supporters energized and engaged for whatever comes next.
The president has insisted to aides that he really defeated Joseph R. Biden Jr. on Nov. 3, but it is unclear whether he actually believes it. And instead of conducting discreet requests for recounts, Mr. Trump has made a series of spurious claims, seizing on conspiracies fanned on the internet. . . .
Advisers said his efforts were in keeping with one of his favorite pastimes: creating a controversy and watching to see how it plays out.
As a next step, Mr. Trump is talking seriously about announcing that he is planning to run again in 2024, aware that whether he actually does it or not, it will freeze an already-crowded field of possible Republican candidates. And, Republicans say, it will keep the wide support he showed even in defeat and could guarantee a lucrative book deal or speaking fees. . . .
But the work of government has been reduced to something of a sideshow for the president.