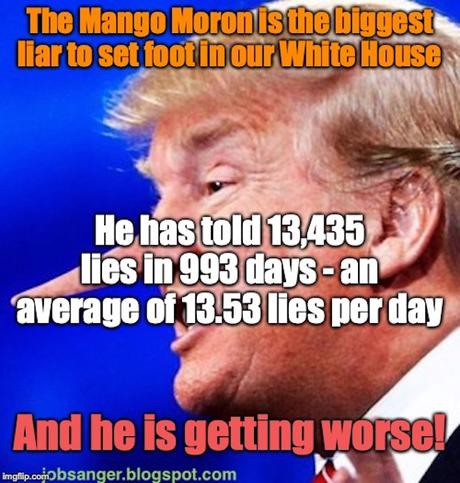 Donald Trump (a.k.a. the Tangerine Twit) continues to set records for lying in office. He has now told 13,435 lies in his first 993 days in office -- a daily average of 13.53 lies. And he's getting worse. As both impeachment and the campaign season approach, he's telling more lies every day.
I had originally set his over and under for lying in the 4-year term at 15,000 lies, but I think he'll easily reach that number by the end of this year. I'm upping the over and under to 20,000 -- an average of 5,000 lies for each year in office.
From The Washington Post:


As President Trump approaches his 1,000th day in office Wednesday, he has significantly stepped up his pace of spouting exaggerated numbers, unwarranted boasts and outright falsehoods.

As of Oct. 9, his 993rd day in office, he had made 13,435 false or misleading claims, according to the Fact Checker's database that analyzes, categorizes and tracks every suspect statement he has uttered. That's an average of almost 22 claims a day since our last update 65 days ago.

One big reason for the uptick: The uproar over Trump's phone call with Ukraine's president on July 25 — in which he urged an investigation of former vice president Joe Biden, a potential 2020 election rival — and the ensuing House impeachment inquiry. We've added a new category of claims, Ukraine probe, and in just a few weeks it has topped 250 entries.

In fact, Trump earned his fastest Bottomless Pinocchio ever with his repeated false statement that the whistleblower compliant about the call was inaccurate. The report accurately captured the content of Trump's call and many other details have been confirmed, yet Trump has repeated this Four-Pinocchio claim 29 times. (It takes 20 repeats of a Three or Four-Pinocchio claim to merit a Bottomless Pinocchio, and there are now 27 entries.) Another false claim — that Biden forced the resignation of a Ukrainian prosecutor because he was investigating his son Hunter — just barely missed the cutoff for inclusion. (Trump has said it 18 times.) We presume the falsehood will earn a spot on the Bottomless Pinocchio page in the next update. Trump crossed the 10,000 mark on April 26. From the start of his presidency, he has averaged nearly 14 such claims a day.