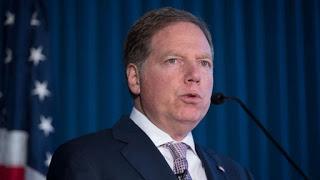 Geoff Berman
The
ham-fisted firing over the weekend of Geoff Berman
, U.S. attorney for the Southern District of New York, could eventually lead to obstruction-of-justice indictments for President Donald Trump and Attorney General William Barr, a lawyer source tells
Legal Schnauzer
. The firing also points to a legal doctrine that likely is little known to the general public but plays a central role in evidentiary law -- and it also places Trump and Barr squarely in the Richard Nixon pantheon of executive criminality -- our source says.
Like may other legal analysts, our source is struggling to grasp what happened in the Berman firing. A big question: Of all the Trump-related cases Berman was investigating, which one became so sensitive -- nd so threatening -- that Trump and Barr decided Berman had o go? A number of legal experts have stated via Twitter that the probes of Jeffrey Epstein and Rudy Giuliani likely drove Trump and Barr into Nixon territory. But others point to probes involving Michael Cohen, a Turkish Bank, Deutsche Bank, Lev Parnas, Igor Fruman . . . and, well, so much corruption, so little time. From our source:
Barr first tries to fire Berman. Berman does not budge. Barr then says he advised Trump to fire Berman and that Trump agreed and fired Berman.
Then, Berman agrees to step down. But Trump publicly says he didn't have anything to do with the firing and that it was Barr's call.
To the contrary, Barr's says it was Trump's decision to axe Berman.


What do we make of this? To be sure, obstruction of justice. But, for purposes of evidence, this shell game that Trump and Barr are playing is indicative of one clear thing: that both are "conscious" of their "guilt" (known as "consciousness of guilt") and they're just trying to play this shell game in the event that Trump is not re-elected and ends up being indicted for about 1,001 thousand counts of obstruction of justice. As to the firing of Berman, Trump can claim that "I didn't fire Berman" and Barr can say "I didn't fire Berman" and both can try to confuse a jury so much that they don't know who to convict. How about this obvious solution: CONVICT THEM BOTH. This is effing outrageous.
Here is more on the "consciousness of guilt" doctrine:
"Consciousness of guilt' is an important concept in evidence law. it posits that life is full of behavior and context in which someone or some group of people do something, or don't do something, or say something, or don't say something, that tends to make them look guilty. and when people behave in any way that makes them look guilty, it's because they are "conscious" of their "guilt" and inadvertently do things or say things (or don't) that reveal that they really are "conscious" that they're "guilty" of wrongdoing.


My point is when Barr and Trump kept going back and forth, both saying that the other guy fired Berman, it's a sign that both are conscious of their combined guilty, and, so because of their consciousness of guilt, they've chosen to dissemble and confuse by pointing fingers to the the other guy and saying, "He did it, not me!"
The Berman firing emits such a foul odor that it takes our source back to the Watergate era:
Firing Berman will end up being one of the first indictments that will be issued against Trump and Barr. Their obstruction of justice in conspiring to fire Berman to interfere with Berman's investigation and preparations to prosecute members of Trump's criminal organization is unprecedented. Trump makes Richard Nixon look like a juvenile delinquent. Nixon was nowhere close to being the career criminal that "Don The Con" Trump is.