Trump-big-mouth-tiny-hands puppet
Scottie Nell Hughes
and other surrogates and supporters have been trying to scapegoat the popular work of fiction, 50 Shades of Gray to excuse Trump's bad behavior.  If one follows the reasoning, such as it is, of these surrogates, those who enjoy the occasional Agatha Christie novel, are pro-murder.
Shades author EL James has strongly repudiated Trump in the most unambiguous terms. 
From
Entertainment
:
Joe Walsh

✔

@WalshFreedom
If women are so outraged by Trump's dirty talk, then who the hell bought the 80 million copies of "Fifty Shades Of Grey?" Grow up.


E L James

✔

@E_L_James


The word "pussy" does not appear in Fifty Shades of Grey. And it's fiction. You know. FICTION.

#

LearnTheDifference

and

#

GrowUp

@

WalshFreedom
In other news, the sexploitation table has been turned on Trump with the publication of a work of erotic fiction featuring the (alleged) sexual predator turned nominee.  Apparently it is, ahem,  YUUUUGE,
( actually, THIS big ->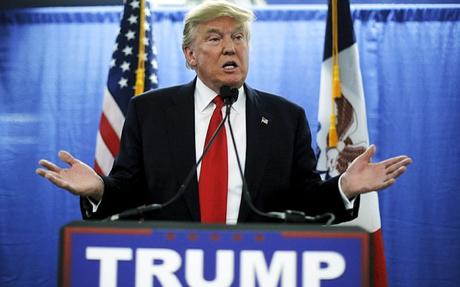 )
the success of the story that is. This is not entirely new ground; in the 2008 election cycle, following rumors of a Sarah Palin sex tape, there were xxx rated porn parodies.
Once again, and never more so than 2016, fact is stranger than really strange fiction.
From the Telegraph, UK comes this gem from January of this year, possibly the funniest tangent of the 2016 election cycle:
Gay-erotic novel about Donald Trump becomes overnight hit

Comedian's tongue-in-cheek online work dedicated to marijuana and alcohol wins unanimous praise from readers

Donald Trump's buccaneering US presidential campaign has cast him in several outlandish guises but none stranger than the one that has become an overnight sensation on Amazon - as the main character of a gay-erotic novel set in one of his own hotels. The billionaire property magnate and Republican front-runner is described with unusual intimacy in Trump Temptations: The Billionaire & The Bellboy, a 10-page novel by Elijah Daniel, a 22-year-old comedian from Los Angeles, that imagines a relationship between Mr Trump and an employee at his hotel in Hong Kong

THE NEW 50 SHADES OF GREY! Trump Temptation: The Billionaire & The Bellboy by Elijah Daniel https://t.co/Q4uB8avI2z via @amazon — steviebadd (@steviebadd) January 25, 2016

The book was produced in rapid-quick time after Daniel posted a pledge on his Twitter account, @aguywithnolife, which has 95,000 followers.

i'm going to get drunk tonight and write an entire donald trump sex novel like 50 shades of gray & put it on amazon tomorrow i swear to god. — Elijah Daniel (@aguywithnolife) January 21, 2016

Thereafter, Mr Trump's appeal is described in glowing terms that might not necessarily chime with the feelings of the many supporters who have attended his campaign rallies.


"My loins trembled as the scent of toupee adhesive and spray tan swept through my nasal cavity," the smitten narrator recounts. "It was him. It was Donald! He stood there in front of me, like a tall stallion. With his oily orange skin glistening in the sunlight as if he were a soggy cheeto [sic], his hair unkept and messy, like a gorgeous rat's nest. He was beautiful."

It remains to be seen whether the novel is to Mr Trump's taste but it has been given unanimous five-star reviews by 181 customers on Amazon.com's website.


... "After reading this sensual and tawdry account of Mr Trump's escapades in Hong Kong, I'm convinced he can make America great again one bellboy at a time," one reviewer wrote, referring to Mr Trump's own recent book, Crippled America: Make America Great Again.
I can't resist this temptation.  Perhaps now is time to revive the earlier photo trend, cat Trump look a likes: